How to Create the Right Business Continuity Plan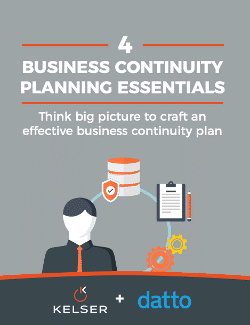 You can't create a business continuity plan without understanding what is most important to your business.
Start by asking a few key questions - How do you communicate with customers? How do you communicate with employees? How are you protecting your hard-earned reputation? Are your business operations running as smoothly as possible?
We can't answer these questions for you - but we can guide you by having the right conversation, understanding the consequences, and crafting a plan that balances the costs of preparing with the benefits of being prepared.
Lets take the first step together.
In this eBook you will learn:
The key outcomes of conducting a business impact analysis
How to craft a communication strategy for customers, employees, and other stakeholders
How to maximize IT uptime, and the most efficient tools available today