Is your cybersecurity program checking all the right boxes? Find out with our Cybersecurity Checklist.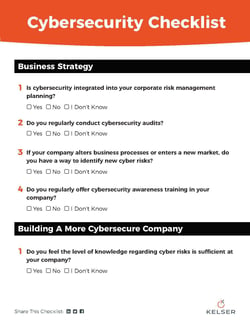 It's impossible to avoid the issue of cybersecurity in today's digital world, and the consequences of ignoring it can be disastrous. But how do you evaluate how your business is doing, and how do you know what you should be looking out for?
It's time to take a good look at your company's cybersecurity policies and practices.
This checklist will help you to:
Evaluate how cybersecurity is integrated into your business strategy

Understand where your company's cybersecurity policies may need improvement

Know the next steps to strengthen your cybersecurity posture
Complete the form to download our Cybersecurity Checklist and get on the path to better cybersecurity today.