Preparing for a Workforce that Wants to Work Any Time, Anywhere, on Any Device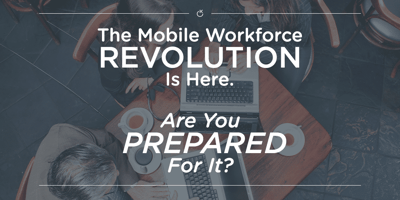 With a society that has become increasingly digitized, innovative, and mobile, it is no surprise that business technologies have had to adjust. After all, the business landscape and digital world are constantly changing, and that produces new challenges:
Workforce Management in an Untethered Workplace
Nowadays, an increasing number of workers prefer to perform tasks outside the office, which makes setting up physical locations optional for SMEs (small- and medium-sized enterprises). In response, businesses should prioritize devices and software that promote collaboration and connectivity outside the traditional workplace.
"Bring your Own Device" (BYOD) Culture
A trend that we're already seeing among small businesses is the use of BYOD strategies to leverage personal applications and data for work purposes. However, this system calls for efficient management over these personal devices, as well as data security for employees. Affordable cloud-based technologies is the best option for tackling this hurdle.
Data Management and Security
Some of the most significant vulnerabilities smaller businesses face are data backup, protection, and storage. Larger businesses have the budget to acquire more data storage equipment, but SMEs can address this issue through the use of a reputable cloud storage software or facility.
Technology Upgrade Costs
As technology continues to advance and evolve, it can become increasingly expensive to subscribe to the latest software – especially if it's for a team of workers. Unfortunately, this is a challenge that cannot always be avoided, as upgrading your technology keeps your business competitive. The difference is in how often these upgrades are needed, and at what cost to you.
Microsoft 365: A Cloud Computing Powerhouse
Mobility is now possible with Microsoft Office 365's cloud-based software, as well as its SharePoint Online feature. It completely changes the game for SMEs, as handling daily business operations no longer means being confined to an office. Office 365 encourages employees to share documents online, creating a collaborative workspace. Whether your employees want to work from home, or use their own personal devices, management and oversight is made easy. Plus, Office 365 updates automatically, so all of your employees can have the most recent software, without any additional upgrade costs.
Copying files in preparation for a business meeting is no longer necessary, thanks to the seamless file sharing capabilities of Skype. Internal communication is also possible through the suite's instant messaging and video conferencing. With Microsoft Office 365, your employees can efficiently work and collaborate from any device, anytime, anywhere.
As a business leader, you want to have a solid grasp over how cloud services work, so you can optimize operations and boost your bottom line. With Microsoft Office 365 and the support of IT consulting firms like Kelser, you can effectively alleviate unnecessary expenses and maintain a smooth work flow within your company. Our team of experts knows how to customize secure technology and networking solutions according to your company's specific needs. For more information, give us a call today.