By: Kelser on February 16th, 2018
Top 5 Benefits of Using IT Support in CT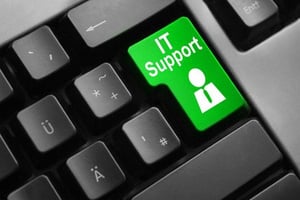 The business world is extremely competitive, and an organization that partners with an IT company in CT can gain a significant advantage over its competitors. Instead of using outdated technology, a company will have access to the latest technology at an affordable monthly rate. If you are interested in learning more, here are five benefits of partnering with a managed services provider:
Top 5 Benefits of Using IT Support in CT
Focus on Core Job Functions
Minimizing Downtime
Reducing Costs
Increased Productivity
Easier to Attract & Retain Employees
1. Focus on Core Job Functions
Using an IT provider can help your employees focus on their job without getting distracted by any IT-related issues. A managed services provider will handle any technical problems that arise, which will enable each employee to become much more productive at their job. It will also help reduce any frustration in the office, as an employee does not have to add any additional responsibility to their core job duties.
2. Minimizing Downtime
Downtime can destroy a company, and it is essential to use an IT company in CT that can keep downtime to the minimum. Businesses in today's workplace depend on technology and cannot afford to experience any extended lengths of downtime. Fortunately, an IT provider can continually monitor all your technology around the clock and will repair any issues before they develop into a serious problem or become widespread.
---
Are IT Managed Services Right For Your Organization?
---
3. Reducing Costs
Choosing to partner with an IT provider is an affordable solution, as you will pay a set monthly cost and not worry about any hidden charges. An IT support company is also much more affordable than hiring an IT staff, as you do not have to pay for additional training, vacation, insurance, overtime, or any other benefits. Ultimately, this makes a managed service provider an easy decision for any company.
4. Increased Productivity
Another advantage of using an IT provider is that it can substantially boost productivity for each employee. Gaining access to state of the art technology can significantly help employees complete their job duties quicker and ease stress throughout the whole office. The use of technology will also give you a competitive advantage and it can transition your business into new levels of success.
5. Easier to Attract & Retain Employees
Maintaining a steady workforce and attracting new talent is one of the keys to success for any business. An IT provider can help your business take advantage of the latest technology, which will allow each employee to become more efficient and it creates a much less stressful environment. Over time, the reputation of your company will be well-known, and it can help you attract the top talent in your particular field.
Deciding to partner with an IT company in CT can significantly impact your business in many ways. Kelser Corporation is an IT support company that can help companies to reach new levels of success with the help of state of the art technology. We focus on providing the best customer support available, and we are always ready to answer any technical questions. We believe that partnering with a managed service provider offers immense benefits and is a simple solution that can help your company in countless different ways. If you want to learn more, feel free to contact us and we can discuss in detail the benefits of using a managed service provider.