Why You Should Care About VDI in Higher Education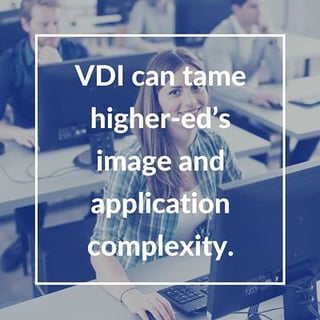 Kelser's VP of Professional Services, Matt Kozloski, and Manchester Community College's Director of Technology, Barry Grant, spoke recently at NERCOMP's annual conference in Providence, RI. They presented, "A VDI Design for Cultural Change" to a packed crowd of IT professionals that practice in the educational space. Their presentation shared the journey of bringing VDI to MCC. Read the recap of the event here.
Here are Matt's thoughts about the conference and his reflections on the benefits of virtualization in higher education.
The Power of Questioning
The sold out conference spoke about the unique technology challenges in the academic environment. It struck me how genuinely interested in learning and sharing the attendees were. They were genuinely curious.
This questioning vibe around NERCOMP was reinforced by the keynote speaker and mentalist, Gerard Senehi. He bent spoons and glassware, guessed cards and made predictions that came true. And what does that have to do with academic IT? His message revolved around the power of questioning and the need to educate the whole person. He said that if you wanted to know how he did his illusions then go learn about magic. Read a book. If a mission to Mars is what you're curious about then go learn about that. You are more than what you do.
The Case for VDI
Barry's and my session explored the advantages of VDI in an academic environment. When we began, I surveyed the audience about who was doing VDI and 2 or 3 hands went up out of an audience of 40. When I asked who was considering VDI, almost all the hands went up. There's good reason for that. VDI is ideal for dealing with higher education's complex application landscape and its need for flexible, efficient solutions that pay for themselves.
Can I Implement VDI?
Barry noted that, though institutional IT staff are capable of implementing VDI themselves, they're much more likely to succeed if they work with a partner like Kelser that is an experienced VDI implementer. Once everything is set up and working, it's sustainable but there are a lot of considerations that go into getting the design right.
Planning for Success
The design phase is really critical to get right. People don't know what they don't know, diving in buying hardware, migrating people to the environment, and then the whole thing tanks. If someone invests a lot of money into VDI and it fails, they're not going to get a second chance. Tried it - didn't work - moving on. At Kelser, we invest heavily in the planning phase - methodically observing and measuring use cases and then backing into a data-driven design. The following are ways that higher education can benefit from VDI and things to consider when planning your implementation.
Weathering the Boot Storm
In businesses, people come in between 8 A.M. and 9 A.M. and that's pretty much their work schedule. Your system has to accommodate one boot storm in the morning. But in the classroom environment, where the classrooms might recycle every 45 minutes or so, you're having boot storms all day long.
The storage has to be able to handle the load so students don't have to wait 20 minutes for a computer to boot. And the problem compounds itself as more and more classrooms come online during the day. If your system isn't sized right, one classroom starts bogging down and then another and before you know it you've ground to a halt.
Classroom Diversity Breeds Image Complexity
Academic environments are often a lot more complicated than commercial ones because of the number of applications they have to support. Businesses tend to have a handful desktop builds in their environments. In school environments, where they run a wide range of applications from programs that run microscopes to applications that design buildings, the challenge is thornier.
From an imaging perspective, you could build one image that has every application you could ever conceivably need on it. And that's problematic, because if one application has to be updated, you then need to test all of the applications on the image to make sure they all still work.
A better way would be to use an application management solution like Unidesk that lets you create app layers, which can be added on top of a foundational or "golden" image. Then, you can compose desktops classroom by classroom.
For example, you can say for classroom 431 I need Windows, Office and a scientific package on the desktop - go - build me 30 of those. And then, if you want to update one layer it's not a massive event. You just update that layer – not the entire image.
Greater Flexibility
You also have granular control over persistent and non-persistent spaces. For example, every time a student logs on they can start with a fresh desktop, while their instructor enjoys persistent sessions with access to all of their information across sessions.
You can also avoid panic situations when unscheduled maintenance needs to be performed on a classroom. You can simply redirect one classroom to another classroom of zero clients and you're done.
No Compromise Graphics Support
A lot of session attendees asked about graphics support. People assume that VDI will equal a performance hit, which it used to in the past. There are now special graphics cards that you can put into servers, which work with the virtualization software to bring a great experience to the zero client.
Operational Support Savings
All colleges are faced with reduced staff and the need to do things more efficiently. The savings with VDI really come from operational support. Because you don't have a fleet of different desktops and workstations spread across campus, you have a consistent desktop for your helpdesk to troubleshoot. For example, if a student downloads a virus or tweaks something in a weird way that breaks the machine, you can just refresh it back to its good build state and you're up and running again in a few minutes.
The Importance of Benchmarking
One final piece of advice – benchmark your environment before going live. You will never have another chance to push the limits of your pristine setup and understand its performance limits. Skipping this step could cost you dearly. There may be a flaw in the design that performance testing would have uncovered but now that people are on the system it's way too late. And now you have a bunch of unhappy users to contend with.
Read more about how modernizing MCC's technology improved the student experience.