8 Project Management Tips for IT Professionals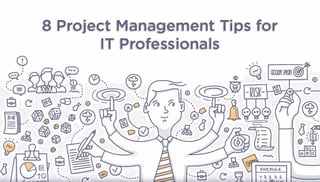 Project management is a challenge in any vertical with hurdles that include changing deadlines, high expectations, constantly-changing requests, team cooperation, and of course the simple fact that at least one thing will go disastrously wrong. On top of that, IT specifically has its own unique challenges.
To keep deadlines (and tempers) from getting out of whack during your next major project, consider the following 8 tips gleaned from our years of experience:
8 Project Management Tips for IT Professionals
Take the Project on as Early as Possible
Get Your Entire Team Involved
Define Your Scope - and Priorities
Define Your Deliverables and Milestones
Assign Responsibilities
Find Their Pain
Create a Strategy for Escalation
Don't Hide Bad News
Take the Project on as Early as Possible
By inserting yourself into the project from the infancy stages, you can help influence the vision, scope, and timeline, as well as set reasonable objectives. If you get any pushback, remind senior management that your involvement early on can help them see around corners - for issues like network security, data loss, and data security - that they might not see otherwise.
Get Your Entire Team Involved
Projects that are 'IT-heavy' generally involve the breadth of your IT department, from the top-dog CIO to the programmers, server techs, and network engineers. By bringing them to the table with you early on you can get a more precise idea of their turnaround times and where they expect to see the most difficulties. This multi-level insight will offer you incredible insight to the project.
Define Your Scope - and Priorities
IT projects tend to take on a life of their own, with the details changing and tasks being added on the fly. These changes, however, especially when they're close to the deadline, will drive you up the proverbial wall, and many people may not understand why the project release was delayed. By defining the scope of exactly what the project is designed to do and achieve you can keep the team on track. You'll also want to set priorities of 'must haves' and 'nice to haves,' so that if you run out of budget (before you run out of project), your team will already know which ideas are on the chopping block. It's all about setting realistic expectations.
Define Your Deliverables and Milestones
Waiting until the end of the project to deliver results can be frustrating for upper management and C-level executives, especially if the entire project isn't delivered on time. Instead of setting one goal for completion, set a steady stream of milestones. This will let people involved in the process know where you are in the project, the progress you're making, and, most importantly, exactly why a certain element might be delivered late. Again, it's all about managing expectations.
Assign Responsibilities
While project managers tend to feel that 'this is my project - and therefore my responsibility,' this attitude isn't the best approach. Sharing responsibilities with your team and upper management will keep everyone more invested in the project, lighten your load a little, and help ensure that everyone understands how the pieces fit together. Your job as the project manager is to ensure everyone knows their responsibilities, and to create the vision for everyone about how each piece will fit into the puzzle.
Find Their Pain
IT projects are often created to meet a goal but what they really should be doing is solving a pain. Look for pain points throughout the project, and figure out how to, if possible, address them.
Create a Strategy for Escalation
Anyone who has ever been a project manager for an IT project knows only one thing is a guarantee - that nothing ever follows your plan precisely. Network security, data integrity, and other similar concerns during IT changes like these are among such problems. Head problems off at the pass by having an escalation strategy. This strategy will also let your team know which elements need escalation, and which they can handle on their own.
Don't Hide Bad News
If a cataclysmic or deadline-pushing problem occurs, let people know early on. Hiding bad news will only sour the client or management, whereas honesty will help manage their expectations. Bonus points if you follow up the bad news with your intended solution.
Want Help?
If you were thrown into a project management assignment or are an executive trying to figure out who can handle a certain project - you might need outside help. At Kelser our project-management professionals have the insight needed, time available, and we speak the language of your business. Let us help, and take the burden off your likely already overworked IT staff.