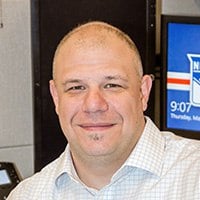 Talking AWS Hybrid Cloud with TechTarget
With so many businesses operating fully remotely, the ability to collaborate in the cloud has become essential. Hybrid cloud solutions give companies the flexibility to use the cloud in a way that best suits them.
TechTarget recently interviewed me about how Amazon Web Services (AWS) fits into the hybrid cloud landscape. Thus far, AWS has not made a play to be a leader in hybrid cloud. But could that be part of a bigger strategy for the cloud computing giant?
Why are enterprises adopting multi-cloud and where are they in that journey?

Redundancy is a key component of disaster recovery strategy. Enterprises simply cannot tolerate the risk of losing their data, no matter how small, so many of those adopting multi-cloud don't want all of their eggs in one cloud basket, so to speak.

In addition, different clouds have specific strengths. Azure excels in database delivery. AWS allows more developer freedom. In large enterprises, it's easy to see how different departments could prefer particular cloud solutions for their type of work.

I think we're in the infancy of enterprises adopting multi-cloud. Microsoft just unveiled Azure Arc, its multi-cloud coordination tool, last fall. The product is responding to a need in the marketplace, and there are a lot of companies that could benefit from it and have yet to get on board.

What is driving AWS' opposition to multi-cloud?

As the most flexible platform, AWS already thinks of itself as a Swiss-Army-knife solution. Their position seems to be that there should be no need for multi-cloud for an AWS user. However, this has not stopped enterprises from making AWS part of their multi-cloud strategy. Amazon just hasn't made it as easy for them as it could with an Azure Arc-type product.

Does this make sense given industry trends?

It's too early to tell. Since Microsoft just jumped into multi-cloud with both feet, it's hard to imagine how AWS avoids launching a corollary to Azure Arc. I suspect they are already developing it, or may have completed it and are simply biding their time to release it.

What should they be doing differently?

AWS seems to have the best marketing strategy among cloud providers, bringing cloud to the mainstream through its partnerships with sports leagues. It's too early to say they need to be doing something differently in terms of multi-cloud. They weren't the first to the market with a multi-cloud manager, so it may be wise for them to take their time and make sure they do it right. They have the benefit of seeing how Azure Arc plays out before they commit to a position.

Will AWS end up making a U-turn like it did with hybrid cloud?

It seems likely that AWS will have some sort of multi-cloud announcement at the May 13 online event they recently announced that will take the place of their annual summit, which had been scheduled for this spring.

And most importantly, how does this impact AWS users?

Competition among multi-cloud providers could drive down cost and promote innovation. Overall, it's a good thing for AWS users.