4 Best Practices For IT Asset Management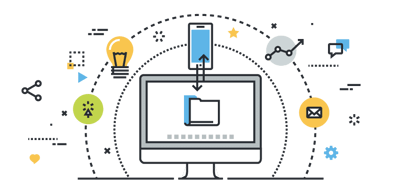 With the proliferation of devices in the workplace, IT asset management is turning from a 'nice-to-have' to a 'must-have' concept. It's no longer acceptable from a high-level IT perspective to have a smattering of devices without knowing relevant, critical information about them such as how old devices are, what components they use, what they cost (then and now), their effect on network security, and their expiry date.

Organizations not using IT asset management programs likely have

rogue and ghost devices on their network
decreased network security
little or no understanding of what devices are on their network and why they're there
machines running past their productivity life cycle
higher technology costs and pay more for their technology
Best Practices For IT Asset Management
If this is the year that you're turning IT asset management from a nice-to-have to a must-have, congratulations! To help point you in the right direction, here are some best practices to keep in mind during your IT asset management roll out.
Assemble a Great IT Asset Management Team
Identify Your Critical Assets
Define Your Life Cycle
Consider Mid-Cycle Upgrades
1. Assemble a Great IT Asset Management Team
One reason that IT asset management can fall by the wayside is because it may not have a champion within your organization. So, your first step to creating an IT asset management plan is to appoint your fearless leader for this undertaking.
After your team leader is place, continue filling out the roster of your IT asset management team with a healthy mix of members that have responsibilities related to IT, finance, and purchasing in your business (as well as anyone else that seems fit for the team). The whole IT management process will be easier if the entire team is brought on at the ground-floor of the program.
2. Identify Your Critical Assets
Identifying which assets are business critical, as well as ones that are prime candidates for asset management, can be a potential pitfall when defining an IT asset management program. A potential pitfall is trying to focus too intently on being all-inclusive in this process or, perhaps worse, not being open enough in your evaluation and bumping a business critical asset from the plan.
Some things to consider when deciding which assets to include are whether an asset is business critical, potential direct and indirect cost savings, disaster recovery potential, regulatory compliance (such as HIPAA) needs, and other factors.
3. Define Your Life Cycle
Another potential reason that IT asset management programs falter is that an organization's technology life cycle isn't clearly defined (or isn't followed through on). Selecting a product life cycle is accomplished by deciding when you'll end-of-life cycle a device (because the beginning of its life cycle is generally when it is purchased). Each product will end-of-life at a different time which adds to the difficulty of administering these programs. However, as you begin to leverage things like bulk-purchasing agreements, you'll see your end-of-life cycles begin to sync up.
Once you set a life cycle, stick with it. Trying to push products past their expiration date, or forgetting to upgrade/replace them, undermines the asset management process and can have a negative effect on things ranging from network security, technology efficiency and performance to cost, man hours, and operational efficiency.
4. Consider Mid-Cycle Upgrades
Many companies create IT asset management programs for the sole purpose of legacy asset disposition and new asset acquisition. If that's the plan as defined then that's fine but also consider mid-cycle upgrades they're appropriate for your product's life cycle and your asset management program. Similar to how a tune-up can breathe new life into your car, a mid-cycle upgrade can potentially extend the usable lifespan of your IT assets.
For example, computers and laptops can benefit from software and/or hardware upgrades to prolong their life cycle if those upgrades are applied at the right strategic time.
You Don't Have to Venture Out Alone
Your IT department isn't the only one that could benefit from IT asset management programs and services (like Kelser's IT Lifecycle Management) – it can add value for your financial and operations departments as well.
If you want to reap the benefits of a well-executed IT asset management program but you're unsure if you have the knowledge, staff, and time to commit to an IT asset management program, give us a call. We're happy to dive into more detail with you about IT asset management programs and if partnering with a firm like Kelser is a strong choice for your needs.