IT in Connecticut: 3 Reasons to Choose Cloud Computing
Modern Data Center | Workforce Enablement | Managed Services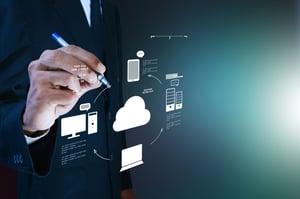 Many businesses face the decision of migrating to the cloud. Certainly, companies must consider the cost of transitioning to cloud computing. Thankfully, an IT provider in Connecticut can help make the process as smooth as possible while keeping downtime to a minimum. Here are three simple reasons why your business should consider using cloud technology.
3 Reasons to Choose Cloud Computing
Cost-Effective
Security
Flexibility
1. Cost-Effective
The costs of transitioning to cloud services are different for each business, but it is generally more cost-effective than an on-premise solution for storage. For example, cloud computing can eliminate some of the costs of maintaining on-site technology because it is replaced through cloud services. Instead of worrying about on-premise storage solutions, your employees can focus on their job and let an IT provider upload all of the data backups onto an off-site cloud server. Ultimately, this will save your business a lot of time and will help employees stay productive without any technical distractions.
2. Security
Taking care of a client's confidential information is essential for any business that hopes to maintain the public trust. An IT provider in Connecticut can enable your company to provide an extra layer of security with the help of cloud technology. For example, any data uploaded onto the cloud is protected with encryption and is stored in multiple off-site locations. If your business experiences a natural disaster, the data can be easily recovered from a server. This added layer of protection will give your clients the peace of mind to know that their information is always safe and secure under any circumstances.
3. Flexibility
The use of cloud services is very flexible to meet the unique needs of your business. Of course, not everything has to be uploaded to the cloud, yet an IT provider can help you create a business plan that maximizes the use of this technology. This extra level of customization is an invaluable resource that will allow you the flexibility to use cloud computing in a wide variety of ways.
An IT provider in Connecticut can help your business reach its full potential. Kelser Corporation is an IT provider that helps a wide variety of companies take advantage of the newest technology. Cloud computing can impact your organization in a significant way, and we can guide you through the many ways it can benefit your business. If you are interested in learning more about cloud services, contact us now!