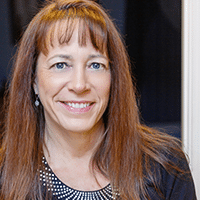 Kelser Charity Challenge in the News: WFSB Channel 3, FOX61, Hartford Courant, New Britain Herald
The Kelser Charity Challenge raised more than $42,000 — a new event record — for the Center for Cognitive Health at Hospital for Special Care. After taking our 2020 fundraiser online it was great to be back in the swing of things on Sept. 14 at Indian Hills Country Club in Newington.
In addition to golfers, Hospital for Special Care volunteers, and our generous sponsors, local media was out in force at the course to report on the happenings.
The Hartford Courant published a recap of the event, diving into the background of the Kelser Charity Challenge and quoting Dr. Anthony Rinaldi, director of the Center for Cognitive Health at the Hospital for Special Care, Kelser CEO Barry Kelly and me.
WFSB showed clips of one of the most unique and impressive 50/50 raffles you'll ever see — the helicopter ball drop. There were also interviews with Dr. Anthony Rinaldi, director of the Center for Cognitive Health at the Hospital for Special Care, and Kelser CEO Barry Kelly.
FOX61 captured video of a stellar tee shot and the climactic helicopter ball drop.
The New Britain Herald dedicated a full page to the event.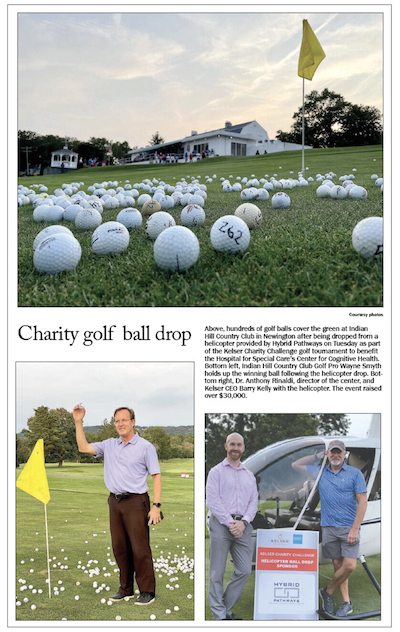 The Herald's Ciara Hooks also wrote a profile of Dr. Rinaldi, who just started as director of the Center for Cognitive Health in June.
Rinaldi explains how the Center for Cognitive Health is a difference-maker for those living with Alzheimer's disease, and other cognitive difficulties, and their families.
Instead of having several different referrals go to several different doctors trying to organize and manage it all, why not stay with one facility that has all the providers that you can trust and has all the expert care in one place? That's what we really strive to provide.
And, as Rinaldi told the Hartford Courant, the Kelser Charity Challenge and the Kelser Foundation as a whole are making a difference in their own way.
The Center for Cognitive Health hinges on the ongoing support of the Kelser Foundation and from this tournament specifically. It really allows us the flexibility to be able to add staff and to provide resources, and to be able to look for new materials and explore different ways to provide expert care. Without that ongoing funding and support, that kind of flexibility is very difficult to find, particularly in nonprofit settings. So we are tremendously grateful for all the Kelser Foundation does for us.
Barry Kelly's brother Bruce, the founder of Kelser who lost his battle with Alzheimer's in 2020, is the reason the proceeds of this event now go to the Hospital for Special Care after benefitting other worthy charities over the past two decades. Here's what Barry had to say.
My brother was a very smart and strong person. It was so hard to watch him slip away. There were so many times when his wife and I weren't sure exactly what to do next. To me, that's what's most impressive about the Center for Cognitive Health. It gives patients with memory disorders and their families a road map and guidance so they can proceed down this difficult path — and it is very difficult — with confidence that you're doing all the right things.

Bruce started this event and it has expanded and taken on new energy since we aligned with the Hospital for Special Care. I know it would please him to see everyone here and to see the fundraising total, and to know we're helping an amazing local organization make a difference during a very difficult part of people's lives.
The Courant also quoted me describing what it felt like to be back after two years.
Because we missed last year, the atmosphere and the feeling here is incredible. Everybody is thrilled to be back. They're thrilled to see each other. They're thrilled to be playing together. They're thrilled to be supporting the charity, raising the money. The weather is perfect. It's goodness in every way.
More goodness is on the way next year as we'll be celebrating the 25th anniversary of the Kelser Charity Challenge. Hope to see you all on the course!