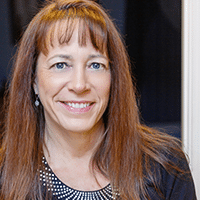 Kelser and Fitbit Support Special Olympics Glastonbury
With competition and practice on hold due to the COVID-19 pandemic, Kelser Corporation and Fitbit teamed up to provide Special Olympics Glastonbury track and field athletes with fitness trackers to help maintain training.

The donation took place at a socially distanced team meeting (the team's first in-person meeting since February) outside the Riverfront Community Center in Glastonbury, Connecticut, on August 5. Despite damage around the state from Tropical Storm Isaias the previous day, 10 track & field athletes ranging from age 8-43 were presented with Fitbit Inspire™ and Fitbit Inspire HR™ fitness trackers. Another 10 athletes who weren't able to attend will receive their devices soon. WTNH News 8 was there to capture the scene.
The Glastonbury Citizen covered the event and The Hartford Courant published an article about the donation as well, in which I described how this all stemmed from an internal steps competition between Kelser employees during the months of April and May.
Everyone at Kelser synched up our Fitbits, which we already own, and had a competition. It got pretty competitive. We had 22 people in the competition, but soon there were six front runners. I started taking phone meetings and doing webinars while walking and logged over a million steps in the two-month period. It was great for everyone.

As the winner, I got to choose a charity to make a donation to. We got connected with Special Olympics Glastonbury and it's such a great fit. You can feel the energy of this group here tonight, and I'm so glad we can support them during this difficult time.
We reached out to Fitbit just in case they might want to partner with us on this, and they came through very quickly and in a big way. Thanks to them, we were able to provide fitness trackers for all 20 athletes on the Special Olympics Glastonbury track & field team. The athletes have been training virtually since last spring and it's unclear when competition and training will resume in person.
FOX 61 also covered this story as part of their "Send the Love" series.

"The camaraderie and community of Special Olympics makes staying in shape a joyful experience for our athletes," says Tina Yenkner, a former teacher in Glastonbury and local coordinator for Special Olympics. "Obviously, being together in a meaningful way is difficult right now. These fitness trackers will help our athletes monitor their stats and compare numbers. It will help them feel a little more connected to one another—as well as their own bodies and workouts—as we weather this pandemic."
About Special Olympics Glastonbury
Special Olympics Glastonbury is an accredited Special Olympics Connecticut (SOCT) Local Program that for over 30 years has recruited, registered and trained individuals with intellectual disabilities in Special Olympics sports to prepare them for competitions.
The mission of Special Olympics is to provide year-round sports training and athletic competition in a variety of Olympic-type sports for children and adults with intellectual disabilities, giving them continuing opportunities to develop physical fitness, demonstrate courage, experience joy and participate in a sharing of gifts, skills and friendship with their families, other Special Olympics athletes and the community.
About Kelser Corporation and the Kelser Foundation

Since 1981, Kelser Corporation has helped organizations achieve their goals through technology. Based in Glastonbury, Kelser is proud to assist a wide variety of organizations in the Northeast—including some of the largest companies in Connecticut—in using technology to move their businesses forward. Kelser's experienced team of technology consultants understand their clients' businesses as deeply as the products and services Kelser provides. The result is technology that works on behalf of businesses, not the other way around.
In 2011, the Kelser Foundation was created to formalize the company's volunteering and philanthropic activities. This year, Kelser topped $1 million in total funds raised for charities, in addition to countless clothing and food donations and volunteer hours. The Kelser team was the top fundraiser for Special Olympics Connecticut at last year's Coventry Lake Penguin Plunge. Kelser has been a sponsor of the Travelers Championship for over 25 years and hosts its own Kelser Charity Challenge golf tournament supporting the Hospital For Special Care's Center For Cognitive Health, currently scheduled for September 20, 2021.

More information: https://www.kelsercorp.com/kelser-foundation/
About Fitbit
Fitbit's vision is to make the world healthier, using more than a decade of leadership building health & fitness experiences consumers love. At Fitbit, we're focused on removing barriers to global health by making the ability to improve your health more accessible through a range of affordable, cross-platform devices so anyone around the world can choose something that fits their needs and price range.
Fitbit Inspire™ is our most affordable fitness tracker at $69.95 (USD), with essential health and fitness features including all-day automatic activity, exercise and sleep tracking, goal celebrations, Reminders to Move and more, with up to 5 days of battery life. With a modern, minimalist, comfortable and swimproof design plus options to personalize to your own style, Inspire is an approachable tool to help keep you motivated while developing healthy habits. See more information on the Fitbit website here.
Fitbit Inspire HR™ is an easy-to-use, stylish fitness tracker that helps you build healthy habits with 24/7 heart rate tracking, 15+ goal-based exercise modes, Sleep Stages and up to 5 days of battery life for day-to-night wear – all at an approachable price. With a modern, minimalist, comfortable and swimproof design plus options to personalize to your own style, Inspire HR offers more features for less at $99.95 (USD) and helps motivate you to achieve a healthier lifestyle. See more information on the Fitbit website here.