By: Kelser on September 13th, 2017
Kelser - Proud of Our Partners
You trust Kelser to help solve your business problems and leverage technology to move your business forward. Similarly, we trust our Partners to offer us best-of-breed solutions to help us achieve these goals. That's why we choose to work with the best in the industry and we wanted to applaud one of them, Datto, for their recent efforts.
Datto Providing Assistance During the Hurricanes
Hurricanes Harvey and Irma have collectively devastated the greater Texas, Louisiana, Florida, and Georgia regions in the continental United States. Early estimates have the total damage from both storms totaling near the costs of Hurricane Katrina which impacted New Orleans a little over a decade ago. However, that number doesn't fully speak to the hardships that some individuals, families and companies will face in the aftermath of these storms. Our thoughts and prayers go out to everyone affected by them.
Datto, a business continuity solutions provider, has been making great efforts to help partners, businesses, and those displaced by these storms in the affected areas. For their partners, they began by prioritizing support tickets and tech support staffing for impacted areas and increased resources for their dedicated support team (Code Red Team).
In response to Hurricane Harvey, Datto mobilized their Disaster Response Team (DRT) to establish local recovery operations in the Texas Gulf Coast region to assist partners, MSPs, businesses, and shelters with networking and backup equipment.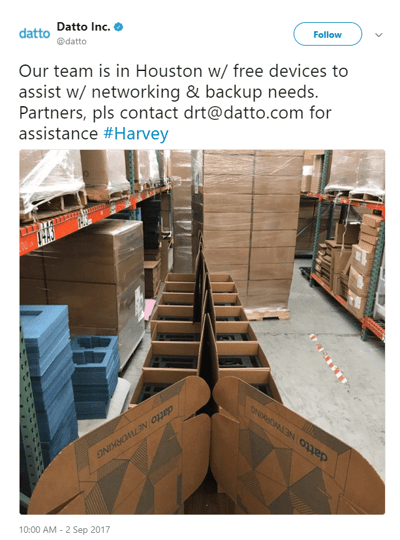 They provided free devices to set up Wi-Fi at various shelters.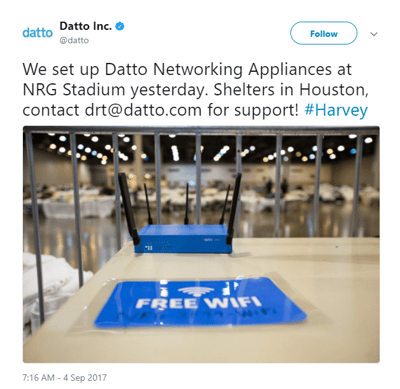 A few days later, Datto's DRT headed down to Florida to provide similar assistance in the wake of Hurricane Irma.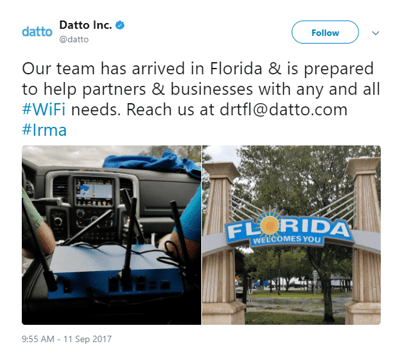 Our Hats Off to Datto
At Kelser, we carefully evaluate the products and services that we build our solutions on. Our Business Continuity/Disaster Recovery-as-a-Service (BCDRaaS) solution is powered by Datto and we're pleased with the admirable way in which they stepped up to help businesses and individuals in this time of need. While we hope that a disaster of the magnitude of Hurricanes Harvey or Irma doesn't visit Connecticut anytime soon, we take comfort in the fact that our solution is backed by Datto's flexibility and dedication. Our thanks to their team as well as all the responders and volunteers working to restore connectivity to the affected regions.
Partners, businesses, and shelters in the Houston area can reach Datto at drt@datto.com.
Partners, businesses, and shelters in the Florida area can reach Datto at drtfl@datto.com.