What Are The Top Misconceptions Surrounding Microsoft Office 365?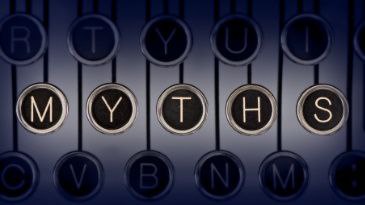 Some business owners encounter resistance when they try to implement Office 365. Microsoft has stoked the fire of brand confusion with Office 365, as they have offered consumer, business, and enterprise versions under the same name. The consumer version offers users email, online Office applications and online storage through OneDrive, but ultimately, it's only a scaled down version of the productivity suite used by enterprises. Because of this, there are a number of lingering misunderstandings surrounding Office 365, making it difficult for some businesses to successfully adopt the software suite. In this post we will attempt to debunk some of the most persistent Office 365 myths.
MISCONCEPTION: Office 365 Isn't Secure Enough For Enterprise-Level Data
This is a frequently believed misconception; however, it is far from the truth. Microsoft Office 365 is quite secure, offering several layers of defense, including dedicated threat management. Also, the productivity suit ensures protection through the use of multi-factor authentication. For a more detailed look at Office 365 security, check out our blog post, "What Are Microsoft Office 365's Top Security and Privacy Features?"
MISCONCEPTION: Office 365 Applications Are Only Available Online
It's true; the productivity suite is web-based conceptually; however, you are able to use it offline, depending on which tiered plan you sign up for. For instance, you can access your data while offline if you're an Office Desktop client, or if you use OneDrive for Business and Office for iPad or Android.
In addition to online Office applications, Office 365 provides:
Business-class email and shared calendar support
Online meeting capabilities
Built in anti-virus security and data backup
And much more…
MISCONCEPTION: Users Won't Be Able To Adapt
In our minds, one of the largest benefits of using Office 365 as a cloud service is that it is quite similar to what many users have accustomed to years. Microsoft's productivity suite is still the same software that they've been using in the past, while simultaneously adding new features that a cloud service can provide.
MISCONCEPTION: Microsoft Will Access My Private Data
Many free email services will scan your emails for information so that they can attempt to better select your advertisements. Luckily, Microsoft will not and does not scan data or customer documents. With Office 365, you own and control all of the data that you store within the service. Microsoft even offers Trust Center, an entire website dedicated to outlining the security guarantee for Office 365 customers.
Kelser | Microsoft Office 365 Provider
Kelser can manage Office 365 for you! We provide support for the day-to-day administration of your Office 365 environment, covering all features of Office 365 and integration with client devices, including iPhone and Android devices.
To learn more about how Office 365 can help, talk to a Kelser technology consultant or click here.
Find out how Microsoft Office 365 can help small and midsized businesses achieve their goals and mobilize their workforces.