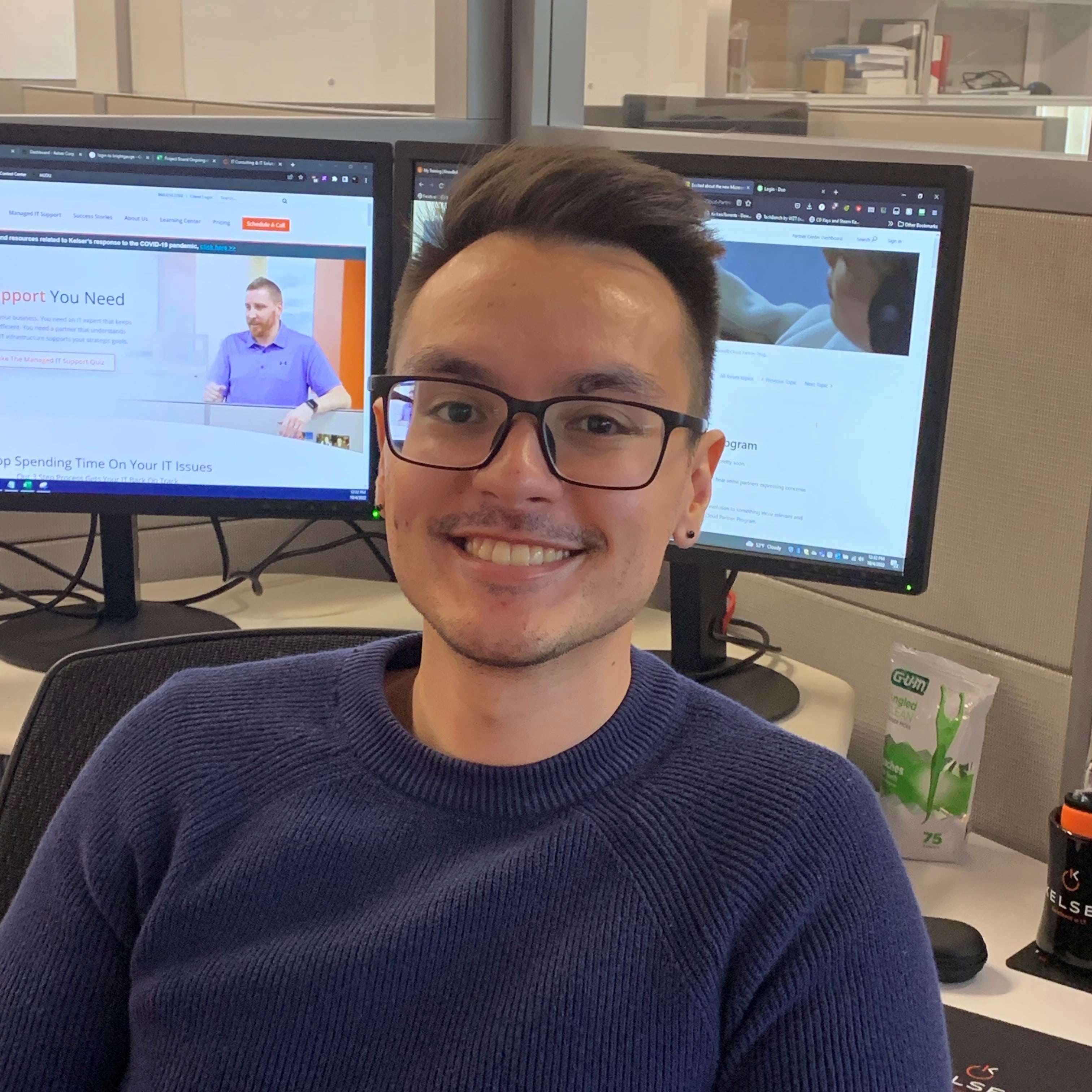 Block Hours Vs. Managed IT Support: The Pros & Cons
Technology is the lifeblood of today's organizations. The demands on IT professionals continue to grow. In addition to responding to daily requests for routine maintenance, IT staff members are challenged by the ever-changing requirements of cybersecurity, regulatory and compliance concerns, long-term upgrades and projects, and more.
If your organization is considering external IT support, you may be wondering about your options. Perhaps you've heard of block hours and managed IT support. But, do you know the differences? The advantages and disadvantages?
That's where I can help. I've worked in IT for more than a decade and help customers like you evaluate their options every day.
In this article, I'll provide an honest, easy-to-understand comparison of block hours and managed IT support.
In the interest of full disclosure, it's important to me that you know I work for Kelser Corporation, which provides managed IT support services to numerous local organizations.
Having said that, I'm not here to convince you to work with us or with any managed IT service provider because, the truth is that both managed and block hours IT support solutions have their place.
Instead, I'm writing this article to explain the important differences between these two IT support options. After reading this article, you'll have all of the information you need to decide which option is best for your organization.
What Is Block Hours IT Support?
The easiest analogy I can think of for block hours IT support is hiring a landscaping company to provide a certain number of hours of yard maintenance.
They perform the services spelled out in your agreement at an agreed-upon rate. If you need more hours, the landscaping company will provide them for an additional charge.
Block hours is the same concept. Often referred to as a pay-as-you-go approach, customers pay either an hourly or lump-sum amount for a certain number of hours of identified services. If the customer needs more or different services, they can get them for an additional fee.
Pros Of Block Hours IT Support
Some of the common reasons people tell me they choose block hours support include:
1. Cost
When you sign an agreement with one provider for a certain number (or "block") of hours of IT support, you typically get a discount on the normal hourly rate.
Whether you pay ahead or pay as you use the hours, you don't have to worry about different terms every time you need service.
Block hours provides significant savings when compared with hiring internal staff.
2. Relationship
Rather than calling a different provider every time you have an IT issue and not knowing how much the fix will cost or how reputable the provider is, block hours agreements make it possible for you to work with the same provider whenever an issue arises.
Over time, you develop a relationship with the engineer who works on your account and they gain a better understanding of your infrastructure. As a result, they may be able to find and resolve issues quickly and effectively.
3. Evergreen
Most block hours contracts don't include an expiration date, so the hours you contract for are good until you use them up. (Having said that, some providers may include an expiration date for your block hours so be sure to read your contract carefully.)
4. Flexibility
With a block hours IT support agreement, you can use the hours whenever you need the support.
5. Trackable
You know how many hours you have used and how many are still available. You know your cost.
When you need IT service, you have the resources you need, without bearing the cost of full-time employees. Knowing what you've spent in a given year can make it easier to budget for the future.
Cons Of Block Hours IT Support
No external IT support solution is perfect for every organization. Here are some of the downsides to block hours IT support:
1. Reactive
As is the case with break/fix solutions, block hours support is reactive. In other words, the focus is on fixing things when they break rather than preventing technology failures before they cause issues.
2. Delays
Most block hours contracts don't include a service level agreement (SLA) with a guaranteed response and resolution time. Your organization is subject to the provider's resources and timeline.
3. Hidden Fees
Make sure you read your agreement carefully to avoid hidden fees. These fees can add up and you don't want to be surprised.
Your service provider may charge a minimum amount no matter how long the fix actually takes. Some providers round up to the nearest full hour, while others may charge a two-hour minimum even if the fix only takes 30 minutes.
Some block hours agreements may include calls to the help desk. If these calls are unlimited, you are golden.
But other agreements may limit you to a certain number of calls in a given period; if you exceed that allotment, you are likely to be charged at a premium rate for additional calls.
As with help desk calls, site visits may or may not be included in your block hours contract. And, if they are included, there may be a minimum number of hours charged no matter the length of the visit.
While most reputable IT service organizations won't resort to this tactic, when the provider already has your money, they may lack the incentive to fix your issue as quickly as possible. As a result, your fix may take longer than actually required, leading to extended downtime.
4. Inconsistent Service
Depending on the size of the provider and the issue that needs to be fixed, your service provider could send different members of their team with different levels of expertise to fix each issue.
While sending the first-available service person might seem like an efficient approach, it can often lead to delays in service as that person has to quickly come up to speed on the quirks of your unique IT infrastructure, before they can even begin to resolve it.
5. Lack of Knowledge Transfer
Another potential downside to block hours IT support is that there may not be an effective means of communication among the service staff.
To mitigate this, some providers document every service call in a ticketing system, creating a knowledge-base resource for the service team.
If that's not the case, you run the risk of every service call starting from square one.
Which Organizations Might Be A Good Fit For Block Hours IT Support?
The organizations best-suited to block hours IT support are typically smaller organizations that don't rely heavily on technology, have minimal security risk, and possess simple IT architecture.
---
Related article: Important Characteristics Of IT Support: 3 Must-Haves
---
What Is Managed IT Support?
Managed (or subscription-based) IT support is the only proactive approach.
Here's how it works: you pay a fixed monthly fee in return for a full suite of ongoing maintenance and services.
Managed IT providers can work alongside your existing IT staff or handle all of your IT needs. The choice is yours.
Either way, the service provider acts as an extension of your organization, looking out for the best technology solutions for your business.
By way of analogy, managed IT could be compared to working with a property management company. A property owner typically pays the property management company a fixed monthly fee in exchange for a defined list of proactive upkeep and maintenance services.
The idea with both property management and managed IT support services is that you pay the same fee every month in exchange for having someone look out for your property (whether that's your physical or technical property).
Pros Of Managed IT Support
These are the most common reasons I've heard for organizations to choose managed IT support services:
1. Consistent Cost
With managed IT support, you pay a fixed monthly fee in return for a full suite of ongoing maintenance and service activities. This approach helps you avoid the surprise of hefty, unexpected expenses.
2. Proactive Maintenance & Monitoring
Most managed IT support providers offer a comprehensive and ongoing package of maintenance and monitoring, including software updates that are automatically pushed out to your devices.
Because your provider offers ongoing, proactive maintenance and support, they can quickly identify and remediate potential issues before they become a problem. As a result, you experience less downtime.
3. Comprehensive Services
The suite of services provided includes a comprehensive package of everything your network needs to stay safe, available, and efficient.
Managed IT support services often include cybersecurity solutions (ranging from employee security awareness training to next-generation firewalls and more), real-time network and device monitoring, and business continuity and disaster recovery services.
They also include managed servers, networks and workstations, automated maintenance, proactive incident notification and remediation, license management, and email support and protection (including managed spam filtering, anti-malware and antivirus software).
---
Related article: What Is Employee Security Awareness Training? Do I Need It?
---
4. Strategic Alignment & Partnership
All IT infrastructures, no matter the size, require the same upkeep; just on a different scale. With technology changing all of the time, many companies find that it's no longer realistic to expect a small (or sometimes nonexistent) IT staff to keep on top of everything.
You may have the staff you need to keep up with the everyday maintenance, but maybe not the strategic, long-term planning, which is equally (if not more) important to your organization's long-term success.
With managed IT, you form a partnership with the provider who can fill the gaps in your technology strategy. The provider acts as an extension of your staff.
Whether you need everyday support, long-term strategic planning, or specialized skills, partnering with a managed IT provider can enhance the safety and efficiency of your entire organization.
5. Technology Expertise
Some managed IT providers also offer IT experts that can give you a leg up on the competition by advising you about ways to use technology to strategically support your business goals and objectives.
For example, a virtual chief information officer (vCIO) and a technical alignment manager (TAM) can help you take full advantage of the latest technology developments to ensure that you meet your short- and long-term business goals.
Managed IT providers may also offer quarterly business reviews to make sure everything is running smoothly and that you have a technology plan for the future so there are no surprises.
---
Related article: Your IT Quarterly Business Review: What It Is, How It Leads To Success
---
Cons Of Managed IT Support
Here are some of the common concerns I hear about managed IT support:
1. Cost
There is a perception that managed IT is expensive.
While managed IT providers typically charge between $100 and $200 per device per month, when you roll up the full cost of all IT support (including both capital and operating expenses), the cost is often closer to other options than you might think.
Add in the peace of mind, security, and availability that you get with proactive managed IT and it becomes an even trade for many organizations.
As a side note, depending on the condition and age of your IT infrastructure and devices, there may also be one-time setup fees during the onboarding process.
Projects that fall outside the scope of the managed IT agreement will be billed separately, but the provider should provide an accurate estimate before work begins.
---
Related article: What Factors Affect IT Support Costs? 10 You Need To Know
---
2. Lack Of Understanding
Some managed IT providers don't take the time to really understand your industry, requirements, and business goals. Nobody knows your business like you do, but any IT provider worth its salt should make a concerted effort to get to know how your business and IT infrastructure are unique.
Only with a complete understanding of your requirements and processes, can they make recommendations that support your goals.
---
Related article: 10 Best Questions To Ask Any IT Provider
---
3. Security Concerns
Many organizations are (understandably) concerned about handing the keys to their kingdom to an external IT provider.
It's important to ask how the provider will protect your data.
Many times I find that small and medium organizations lack the internal resources to make sure that updates and patches are installed quickly, which leaves your infrastructure vulnerable to hackers.
Managed IT mitigates that risk by automatically pushing patches and updates to your devices, actually enhancing the security of your data and network
4. Inconsistent Service
Many customers change providers due to a lack of consistent service. Whether the issue is communication with an off-shore service desk or a lack of on-site service or extra unexpected fees, understanding your service level agreement (SLA) is an important way to manage expectations.
---
Related Article: What Is A Service Level Agreement (SLA)? Why Is It Important?
---
5. Longevity
I often hear from customers whose previous provider has merged with a larger one or gone out of business. To avoid a revolving door when it comes to supporting your IT, make sure you understand how long your provider has been in business and do your due diligence.
You want to know that your IT provider will be partnering with your business for years to come.
Which Organizations Might Be A Good Fit For Managed IT Support?
In my experience, small and medium businesses that are concerned about cybersecurity, have a more complicated IT infrastructure, and understand the risks of data breaches and noncompliance with contractual or regulatory obligations are a good fit for managed IT support.
Organizations like these don't typically have the financial resources of larger organizations.
Managed IT provides the expertise small and medium-sized organizations need to keep their infrastructure safe and efficient while maximizing their financial investment. They don't bear the full cost of staff, but also have access to all the IT expertise they need.
What's The Bottom Line?
After reading this article, you have a complete understanding of the similarities and differences between block hours and managed IT support. You know how each support model works as well as the pros and cons of each approach.
Block hours offers cost advantages, flexibility, no expiration and the ability to track the hours. The disadvantages include that block hours are reactive in nature, delays, inconsistent service, hidden fees and lack of knowledge transfer.
With managed IT support services the advantages include consistent cost, proactive maintenance and monitoring, comprehensive services, strategic alignment and a true partnership, as well as access to a full complement of technical experts. Disadvantages of managed IT support may include cost, lack of understanding, security concerns, inconsistent service and longevity.
Now that you have a full understanding of both options, you may be wondering if you have other options for IT support. Read this article to learn about the pros and cons of break/fix IT support.
At this point, you may just be beginning the process of evaluating your options. Learn how to choose the right IT provider.
My advice is to take your time and really think about what is best for your organization.
What services do you need?
What is your organizational risk?
How would your business fare if you suffered a cyber attack?
Click on the button below for a free self-guided cybersecurity evaluation tool you can use to evaluate your cybersecurity strengths and weaknesses. Learn 5 best practices and actions you must take to protect your business and data from the latest cyber threats.