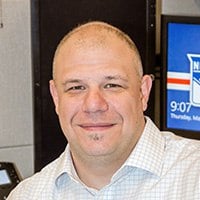 Why Should My Business Use Password Managers?
As a business leader, you know that technology keeps your business running. You know it's important to stay ahead of cyber criminals and want to take steps to keep your network and data safe.
I've spent the past 13 years working in IT. As a senior systems engineer and manager of the Kelser service desk, I understand the need to balance security and productivity. There are big and small actions you can take to boost the safety of your organization's network and data. helping people businesses implement effective security tools.
One popular tool that doesn't require a large capital investment and can yield significant dividends is a password manager.
In this article, I'll answer the most common questions I hear about password managers. By the time you finish reading this article, you'll understand what password managers are, how they work and why businesses use them. Armed with that knowledge, you'll be able to decide whether password managers might be a good security tool for your business.
What Is A Password Manager?
Allow me an analogy. People often put important papers and other valuables in a safe deposit box at a financial institution. That box is stored in a locked vault and only accessible via two unique keys that must be used by a bank representative and the box owner at the same time.
In a similar way, a password manager is software that securely saves multiple passwords for your applications in a virtual vault where they are all protected behind one secure, unique password. It can save username and password combinations as well. It streamlines the login process for users who use a variety of applications and websites every day.
How Do Password Managers Protect Data?
When installed, a password manager asks users if they want to store their login credentials the first time they log in to an application or visit a website.
Once the login credentials are saved in the password manager, they remain safely stored until the user wants to access one of the saved applications or websites.
When a user wants access, they need only to unlock the password manager with their unique, complex password. The password manager will then autofill the appropriate credentials (user id and password) for the application or website they are trying to access.
---
Related article: 3 Advantages and Disadvantages Of Password Managers
---
Why Do Businesses Use Password Managers?
Rather than having to remember multiple passwords, which often leads to unsafe practices like writing them down, users need only to remember the one unique, complex password for the password manager.
This makes it easier for users to gain access to the applications and websites they use regularly, while providing an extra layer of protection that makes it more difficult for people with malicious intent to hack in.
With just a few seconds delay and for a few dollars per user per month, password managers provide a cost-effective security tool for users.
Should My Business Use a Password Manager?
While only you can decide if a password manager is right for your organization, you now have the information you need to make an educated decision.
After reading this article, you know what a password manager is, how it works, and why businesses use password managers.
If you decide that password managers make sense for your organization, you may have the internal resources you need to help you implement them. Or, you may need help from an external IT provider.
If you are considering working with an external IT provider, we encourage you to explore several options. It's critically important that you find the right IT provider for your organization. It doesn't do your business or the provider any good to work together if you aren't the right fit.
---
Related article: 6 Easy, Cost-Effective Cybersecurity Solutions
---
Just starting to explore external IT support? Learn the different options for external IT support and how they compare.
If you are already evaluating external IT providers, find out the 10 best questions to ask any IT provider. As we mentioned previously, we encourage you to check out several providers. In fact, we believe so strongly in this advice, that we've done some of the research for you.
Check out this article for an unbiased comparison of Cooperative Systems and Kelser. You may be wondering why we write articles that compare our offering with our competitors. Valid question!
We believe in honesty and transparency. And, we know that when we are considering an important purchase we usually turn to the internet to research our options. We figured we'd save you a step and give you one place to look to see a head-to-head comparison.
At Kelser, we provide a comprehensive suite of managed IT solutions. But we know that managed IT isn't the right solution for every organization. Curious? Learn what managed IT support services include and what they cost.
Read this article if you are wondering if managed IT support is a good solution for small businesses.
All businesses need cybersecurity tools that can withstand the latest threats. Are yours up to the challenge? Click on the link below for a free cybersecurity checklist that will explain 5 best practices and actions you must take to protect your business and data from the latest cyber threats.