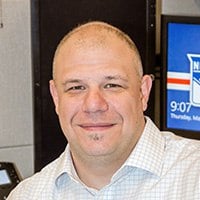 How Do I Contact Kelser's IT Service Desk? What Happens Next?
It's happened to everyone. You are in the middle of an important project and your system crashes or your internet goes down or you can't connect to the VPN.
It's annoying and frustrating. You take a deep breath and contact your IT support team, but do you really know what happens once you initiate a service call?
As the manager of Kelser's service desk, I have a deep understanding of the entire process. In this article, I'll explain how to submit a service request, what happens next and the important information to include on a service ticket.
Kelser is committed to providing the information business and IT leaders need to understand IT topics and we publish articles like this so that you have the information you need, whether we work together or not.
Although this information is specific to Kelser, the process outlined here may be similar to those used by other IT support providers. The biggest takeaway is that the information you provide is critically important in facilitating the entire service process.
How Do I Contact Service At Kelser?
Let's start at the beginning. You can contact the Kelser service desk by telephone or email.
Where Is Kelser Service Located?
Kelser support is 100% U.S. based and all service requests come to our office in Glastonbury, Conn.
What Information Should I Be Ready To Provide?
Whether you contact us via telephone or email, including specific information will help us diagnose and resolve the issue efficiently. If you are prepared with this information when making initial contact with us, that will expedite service.
Extent of Issue
How many people are affected by the issue? Is it the entire office, just one person or multiple people? What is the role of that person/people in the organization? Is the issue localized in a certain area of the building?
Detailed Description
Describe what is happening in as much detail as possible.
Error Messages
A good rule of thumb is to do whatever you can to capture error messages associated with the issue.
If possible, provide a screenshot of any error messages or a picture on your phone to document the issue. This one small step can make a huge difference and is essential in troubleshooting issues.
Realistic Sense Of Urgency
How critical is the issue? Can the affected person/people perform job duties while waiting for a fix? Is the entire company unable to work? Are customers unable to connect to your business?
We know that it is inconvenient when your technology isn't working at optimum capacity, but is it really urgent?
Urgent tickets are categorized as those that have widespread impact on the organization's ability to deliver for the customer, those that impact key leadership, and those that prevent communication with customers.
If you experience an urgent need for service as outlined above, we encourage you to contact us immediately via telephone. When you do this, our dispatcher can be sure to gather all of the relevant information and prioritize your request accordingly.
Contact Information
What is the quickest way for the service provider to reach the person/people affected? Is there a cell or office phone that will be monitored? Is email best? Think about where you will be and when.
Since we provide a window of time when our engineer will reach out, make yourself available during that time if at all possible. Avoiding games of telephone tag will result in faster resolutions. Without direct contact with the user, the level of support will suffer.
Providing only an email address as a form of contact will not yield optimal support. Offer multiple ways to contact you.
Names
When it comes to IT service, name dropping is always a good idea. Here's what we mean:
Affected Workstation(s)
If you know the name of the affected workstation, including it can help if the service engineer or technician needs to establish a remote connection. Alerts and system checks can be run behind the scenes once the name of the workstation is identified.
Engineer Who Helped Solve A Similar Issue
If you remember the name of the engineer who helped solve a similar issue for you in the past, that is also a great tidbit to throw into the ticket.
Recurring issues can often be fixed more quickly when the same engineer responds (since they worked on it before, their familiarity may help troubleshoot the issue more easily).
Additional details
The more details the dispatcher and engineers have, the more effectively they can address the problem at hand. Details that seem unimportant can make a huge difference in turnaround time; I've seen it happen hundreds of times.
The three minutes that it takes for you to provide information are worth the extra time, as they help determine the urgency of your service request.
While all IT issues are important, there is a difference between one user who is struggling with a particular app and an entire organization without access to their network, causing a stop in the entire workflow. The second scenario would immediately move this customer to the top of our priority list.
Nobody likes to wait, but just as when your doctor takes the time to fully answer your questions about a medical issue, it is reassuring when your IT provider takes the time you need to have your issue resolved.
When you are the one who needs the extra time and attention, you are happy to have a provider who cares.
It is always in your best interest to provide as much information as possible so we can get you up and running quickly. Details matter. If you aren't sure whether to include something, err on the side of providing too much information.
It's kind of like a doctor visit. If you only tell the doctor you don't feel well, a lot of different things could be wrong. The doctor likely will need to ask questions and perform tests. But, if you provide a detailed list of symptoms, you may get a quicker, more accurate diagnosis and treatment plan.
Accurate and specific information will yield a quicker and more accurate fix.
---
Related article: Why Does It Take So Long To Get IT Support? (5 Things Every IT Support Ticket Needs)
---
What Happens When I Call Or Email The Service Desk To Initiate Support?
Whether you call or email us with a routine service request during normal business hours, it receives the same level of attention.
The only difference is that if you call, we will take the information over the phone and put in a service ticket for you. Here's what happens after you submit a service request:
One of our dispatchers reviews the information in the service request (or ticket) and assigns it to a qualified and available service engineer.


Once the ticket is assigned, you receive an automated email acknowledging receipt of your service request with a ticket number and a window of time during which a service engineer will contact you. (If that time doesn't work, there is the option to reschedule.)


When the service engineer calls you, they make every effort to resolve the issue during that first person-to-person contact. If it is resolved, you'll skip to step 6.
If the service ticket can't be resolved for some reason, (maybe you need to run to a meeting or maybe the service requires a more senior engineer,) the engineer will schedule another time with you and get a more senior engineer to help you. This process is known as escalation.

You will receive another email with the same ticket number and a new window of time when a service engineer will contact you.


In general, issues are resolved remotely, but when that isn't successful, we'll schedule a time to come on-site to provide service.

As we work through the resolution process together, you will receive email updates every time a service engineer enters notes in the ticket.


When the issue is resolved, you will receive an email closing the ticket.
The advantage of our ticketing process is that your request is routed to the soonest available and most qualified engineer. This means faster resolution of your issue.
We know that it can be tempting to call the person who handled your most recent request, but the reality is that can slow down resolution.
What if that person is out of the office? What if they are working on another project and don't get your voicemail message? Using the ticketing process ensures that you get the most qualified and available engineer the first time.
How Long Will Service Take?
Our goal is to resolve issues on first contact and we achieve this goal 90 percent of the time.
Our contract service level agreements (SLAs) specify that tickets will receive a response within 2 hours. While most issues are resolved much more quickly, this SLA accounts for a worst-case scenario.
---
Related article: Is An IT Service Level Agreement Important?
---
Of course, there will be occasions when the issue is complex and takes longer than to resolve. In this case, we maintain contact so that you know what is happening and what to expect.
Part of the service you pay for is the IT expertise of your provider to prioritize all service requests and address issues in order of urgency in the most efficient way possible.
What If I Have An Issue Outside Of Normal Working Hours?
If you experience an issue on the weekend you can call in and leave a message with our emergency support line (1-800-647-5316 option 1), but you will incur a charge for after hours work. Response time for this type of emergency response is within 15 minutes.
If the issue can wait until our normal operating hours, then just email a ticket to servicerequest@kelsercorp.com and it will be handled the next business day.
Is There A Limit To The Number Of Times I Can Request Service?
At Kelser there is no limit to the number of calls or emails to our service desk. You are paying for the service, it's what we do!
If you aren't sure whether to contact us or not, please reach out for anything you need. Rather than trying to fix something yourself first, save the time and energy and contact us.
The only time we charge extra for service is on the rare occasion that a request falls outside the scope of our contract or if you need help after hours. But we always let you know if the service will incur fees before any work is done.
What If I Need Software Installed?
This is usually dictated by your company's policy, so Kelser doesn't provide users the rights to install software without an administrator. Contact the service desk and we'll walk through this together.
What Else Do I Need To Know About Service Requests At Kelser?
After reading this article, you know everything that goes on behind the scenes when you contact Kelser to submit a request for service. You know how to contact the service desk, the important information to include in a service ticket, and that we welcome your service requests!
At this point, I have just a few more tips:
1. Users Should Submit Tickets
Rather than routing tickets through one contact point at your organization, we find it is much more effective for users to submit their own service tickets. First-hand knowledge from the user is critically important to being able to resolve issues quickly and correctly the first time.
To facilitate the ticket submission process, be sure that all users know how to submit a service ticket and the information to include.
2. Use Descriptive Subject Lines When Emailing A
Ticket
When submitting a ticket via email, make sure that your subject line provides as much information as possible. The IT service team will be able to more quickly route a ticket that says "Help - my email won't download" than one that simply says "Help."
3. Submit A Different Ticket For Each IT Issue
Submit a ticket as soon as you notice an issue. Here's the thing: if you wait and submit multiple problems on one ticket, there is an opportunity for the ticket to get closed out when just one of the issues is resolved.
Putting each issue on a separate ticket (whether you think the issues are related or not), ensures that each issue will get addressed.
When users wait and let issues pile up and submit multiple problems on a service ticket, an entire service ticket may mistakenly be closed out as "resolved" when only one of the issues on the ticket is resolved, leaving the others unresolved and no longer tracked.
When it comes to service at Kelser, we encourage and welcome your requests. Service is such an important part of the overall support we provide that we include it as an unlimited benefit in your agreement.
The truth is that contacting us with service requests saves time and makes the entire process more efficient for you and for us.
Ready to learn more about Kelser's managed IT support? Find out what's included and what it costs.
Or, if you prefer to talk to a person, click on the button below, fill out the short form and one of our IT experts will contact you within 24 hours (often much sooner).