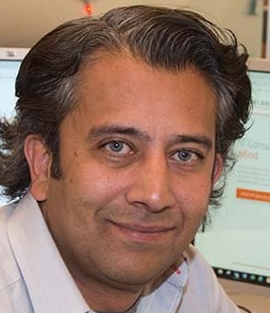 Is Managed IT Support A Good Solution For Individuals?
Most business and IT leaders have heard about managed IT support. If you have a full complement of managed IT professionals caring for your business network, you may not need to work with a managed IT provider. But you may be wondering if managed IT might make sense for your personal devices and network.
The short answer is, it depends. There are cases in which it might be a great solution. And, in other cases, it might be overkill.
In this article, we'll explore situations in which managed IT might and might not be a good fit for individuals.
At Kelser, we provide managed IT support for clients of all sizes in industries ranging from health care to manufacturing, finance to construction, higher education to legal, and insurance. We are proud of our managed IT solution and our 40 years in business would indicate that we are onto something good. Having said that, we also know that managed IT isn't the right fit for everyone.
We approach things differently. Rather than hard-sell our managed IT solution, we provide honest, unbiased information you can use to make the choice that is right for you.
Let's face it, there's nothing to be gained (for you or for us) from an IT partnership that is a bad fit. Instead, we give you the honest scoop and let you decide what makes sense for your organization.
Make sense? We think so (and we're confident you'll agree)!
What Is Managed IT Support?
Just to make sure we are all operating from the same foundational understanding, let's define managed IT support.
Managed IT support is a proactive, holistic, constant way to manage your entire IT environment. With managed IT support, you pay one monthly fee for comprehensive services that provide everything you need to keep your infrastructure safe, available, and efficient.
Also known as managed IT services, managed IT support organizations embrace a philosophy similar to that of routine health care. Just as a preventive physical examination can often identify underlying health issues before they lead to a health crisis, managed IT support provides ongoing monitoring and care for your organization's infrastructure.
The managed IT support model is a partnership between you and the provider that ensures your IT infrastructure is prepared to handle the changing demands and priorities of your business.
This constant monitoring and upgrading makes it possible to identify and mitigate IT issues and anomalies that could lead to problems if not addressed.
The other option, known as break/fix, is a reactive, pay-as-you-go option in which a provider fixes things when they break on a time and materials basis. This approach leads to unpredictable costs.
For a more in-depth look at how managed IT support and break-fix solutions compare, read this article: Break/Fix Vs. Managed IT: Cost, Reliability, Security, Productivity.
Is Managed IT Support A Good Solution For Individuals?
As we said in the second paragraph of this article, the answer to this question is, "It depends."
I'm not trying to be cute, just honest.
When Might Managed IT Support Be A Good Solution For Individuals?
There are situations in which managed IT support might be a good solution for individuals. Some of these include:
If you are an individual working from home and routinely (or even occasionally) handle sensitive information (such as personally identifiable information), managed support can provide the security protections that will keep this information safe.

For example, if you are a certified public accountant working out of your home or in a one-person small office, you must comply with regulations for protecting tax and customer information. It is worth the money to partner with a managed IT provider that will keep your devices updated and protected, and set up your security and regulatory infrastructure.

If you have an Etsy business with access to credit card information, you may want an IT provider to ensure that you are compliant with

Payment Card Industry Data Security Standards (PCI DSS)

, the set of security standards designed to ensure that ALL companies that accept, process, store or transmit credit card information maintain a secure environment.


Even if you aren't bound by regulatory requirements, you may want to partner with a managed IT provider to handle things like cybersecurity or ensure that customers can access your website without encountering traffic bottlenecks.


Do you like to entertain? Do people often ask for your home wi-fi password? Do you have sensitive information

(maybe credit card numbers, tax id numbers, passwords) stored

on your home's local network

?
The best way to keep information safe from prying eyes (even innocent ones that just happen upon information) is to set up separate networks for home, a home-based business, and guests. That might mean engaging an outside IT provider on a project basis, or it might be another reason to make investing in a partnership with a managed IT support provider a good idea.
Even if you are the only person working with sensitive information, you want to ensure that your network is protected from external hackers and other cyber threats.
When Might Managed IT Support Not Be A Good Solution For Individuals?
As we said in the introduction, managed IT is not a good solution for every individual user. If you live by yourself, have a basic understanding of computer security, and have established strong passwords for your network, you're probably okay.
(But, please…make sure you don't leave the default OEM passwords in place. They are notoriously easy to hack. Take the time to set up strong passwords. You'll thank yourself in the long run!)
I'm not going to lie. Managed IT support can be an expensive option for an individual user. While managed IT support is comprehensive, the monthly fee is typically between $120-140 per user per month and that can be prohibitive.
You'll need to decide whether it is worth the investment to avoid compromising sensitive information that could be exploited by people with malicious intent.
Want to know what's included in managed IT support? Read this article: What Is Managed IT? What's Included? What Does It Cost?
Wondering what things affect the cost of managed IT support? We answer that question in this article: What Factors Affect IT Support Costs? (10 You Need To Know).
Where Do You Go From Here?
In this article, we've explored whether managed IT support is a good solution for individuals.
We talked about situations in which it might make sense (regulatory requirements, cybersecurity, sensitive information on a home network) and when it might not (if you live and work alone, don't access sensitive information, and have basic computer security understanding and the cost is prohibitive - but always consider the cost of a cyber breach).
In most cases, managed IT support is overkill for individual users. But, there are cases in which it can make a lot of sense.
The decision is really up to you, but now you know some of the parameters to consider when making this important decision.
Want to improve your internet security? Read this article: 5 Simple Ways To Strengthen Your Passwords.