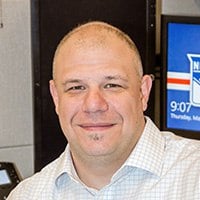 How to Navigate Microsoft Teams
Remote collaboration is more important now than it has ever been.
Businesses are searching out and identifying the best ways to empower their employees to stay connected from wherever they're working.
Microsoft Teams aims to meet that need by offering a single productivity and collaboration platform that allows you to video message or make/schedule video conference calls, instant message, file share, and collaborate on file editing in real time.
You can check out my previous article on Microsoft Teams for more information about its capabilities and ways it could potentially benefit your organization.
As an IT managed service provider (MSP) in Connecticut, we've seen an increased interest in Teams both internally and with our clients which is why I wanted to show you around the Microsoft Teams interface.
Whether you're just starting to use Teams or want to see what the interface is like before you consider it, this video and article below will show you what you or your end users would see as well as a quick run through of the tabs and features in the product.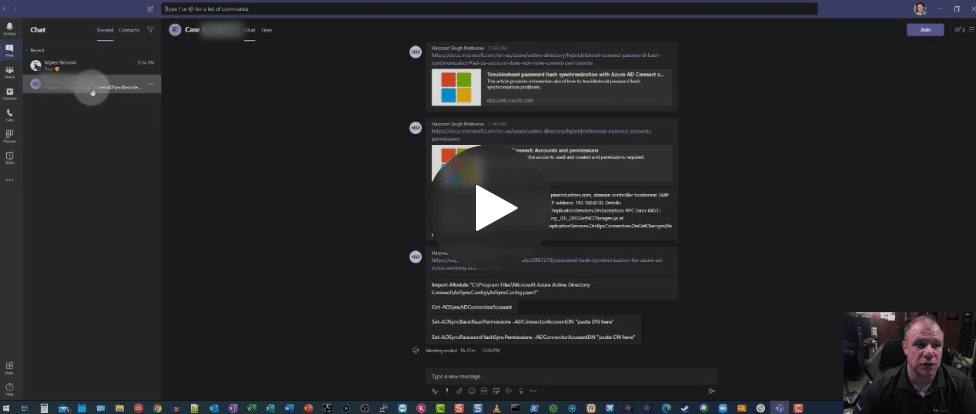 Check out the video here - https://www.kelsercorp.com/teams-interface-video
Main Screen
This is the main Teams screen that you'll likely land on when you launch the application. The first and largest thing you'll likely see is that you'll open to the Chat tab which shows your most recent chat thread in the center of the screen.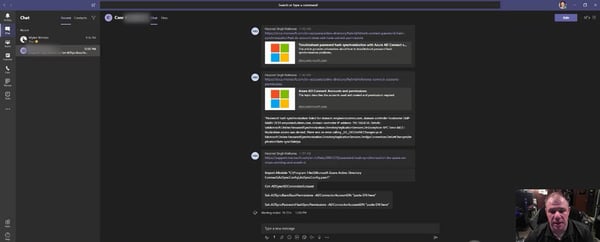 On the left, you'll see tabs for Activity, Chat, Teams, Calendar, Calls, and tabs for other applications you have linked or integrated into Teams. Below those you'll also have the Apps and Help tabs. You can further customize the tabs that appear in your Teams interface by clicking the three horizontal dots and selecting additional apps from the pop-up menu.
On your top right, you can see the person that's logged in (which in this case is me) as well as their current status (online, offline, etc.). If you look just below that, depending on your settings and the type of chat you have selected in this case, you'll either see a "Join" button to instantly start a video call or three buttons to either start a video call, audio call, or screen share. These options refer to the chat that you're in so, if you press the start an audio call button, it'll dial the person in the chat you have selected.
At the top of the screen, you'll see a search bar which we'll dig into a little deeper.
Search Bar

You can search for just about anything that Microsoft Teams has access to with what is basically an omni-search bar of sorts at the top of the screen. You can see how this works just by typing in a few letters and seeing all the types of results that pop-up.
In my video, with just two letters it pulled up three of my contacts and an application. As you can see, the search bar is a powerful tool in Teams to help you quickly access people, apps, files, whatever it might be.
Activity
The Activity tab is relatively straight forward. It shows any notifications that may be relevant to you such as mentions, replies, and more.
Chat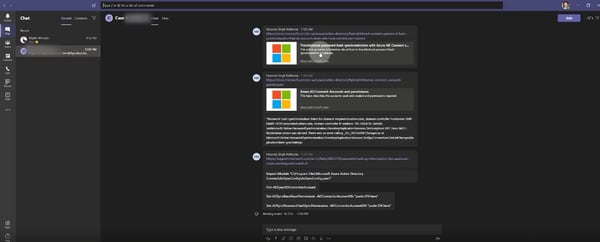 As the name suggests, Chat is the main window that allows you to chat with individuals. You can see in the video that I have a few active chats going with individuals and teams.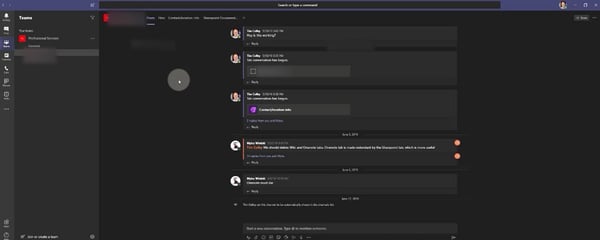 If you select a team chat, this is the main window that shows a lot of Teams' functionality. In the video you can see that I have a OneNote window open when I click into that team. I also have a general chat open for team discussion and any files that have been shared also display there. Beyond that there's also a file storing/sharing functionality similar to SharePoint if you've used that previously.
You can even have chats with people outside of your organization. For example, in the video I have a running chat with a Microsoft representative that isn't part of Kelser, but we had been working through some things with a Microsoft product. As long as other people are also using Microsoft Teams, you can collaborate with them.
It's a powerful feature but one you may be hesitant to utilize especially right out of the gate. If it's a feature you don't want to run with at first or at all, you can lock down that capability on the back end.
Video and Voice Calling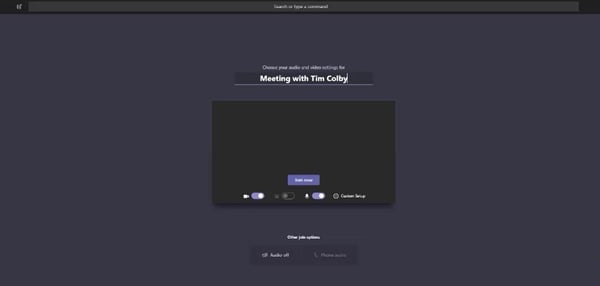 Teams supports video calling, video conferencing, and voice calling features. We touched on some of the impromptu options earlier (the ability to click on a contact then select the "Join" button or the start video call, voice call, or screen share buttons) but you can also add additional contacts to those spur of the moment meetups or even schedule them for a later time.

Teams also has a voice over IP (VoIP) feature that you can use for calling. For an additional monthly fee, you can even get an actual phone number, SIP trunking, and all that through Microsoft.
It's not a very mature product right now so I don't recommend it if you already have a VoIP platform. But for someone like me, who is working from home in my basement where I get spotty cell coverage, this has been a huge help having a system in place where I can always call internally. It's good to know that as long as I have a microphone and a speaker, I can always at least communicate with my coworkers "over the phone".
Calendar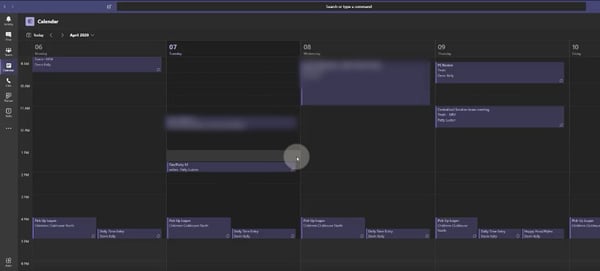 The Calendar tab, much like the Chat tab, does basically what you'd expect – brings up a calendar view. In my case, I have it linked to my Microsoft 365 (formerly O365) account, so all of my calendar information is synced across Teams, Outlook, etc.
The Calendar functionality is another simple touch that speaks to how collaboration and unification is at the center of the Teams application: by syncing with my Microsoft 365 account, I don't have duplication issues across different applications and that information also feeds into other functions within Teams (for example, if I was looking to have an impromptu meeting with someone I'd see their up-to-date availability instead of having to check a different app entirely before calling).
Apps and Other Applications
Below those tabs are any additional apps you've added to your interface. As mentioned earlier, you can add more app tabs to your interface by clicking the button with the three horizontal dots and selecting the desired apps from the pop-up menu.
In the video, I do a quick run through of some of the apps that I'm playing with:
Planner

is a Microsoft tool for project management. It allows you to assign, track, receive, and manage tasks and assignments. If you've used other applications to track tasks by flagging them or having simple lists, Planner takes that capability several steps further by allowing more complex task tracking and organization capabilities (for example, embedding a checklist within an individual task and having that checklist progress show on the task card on your dashboard).


Shifts

is an application designed with frontline workers in mind. If you have hourly employees, you can use this to schedule them and they can use Shifts to create requests and things like that.
On top of its general unified collaboration and communication goal, Microsoft kind of envisions Teams as a platform that could be deployed on a shop floor or something like that. Use cases where maybe your users don't have email or applications that they need to use, but you still want to be able to communicate and collaborate with them as needed.
An example would be if a worker on a shop floor needed access to certain files that they don't have handy as they don't have full internet access or access to those files via their shop floor computer. Or perhaps they have a quick question for a supervisor that they can then ask via chat, audio, or video via Teams rather than having to walk across the shop floor, into the office, hope that the person they need is at their desk, etc.
Beyond the additional applications from Microsoft, if you click the Apps tab, you'll see just how many first-and third-party applications that Teams can integrate with (currently over 400). There's a ton you'll likely recognize and may even already be using like Zoom, Cisco WebEx, GitHub, Twitter, Trello, Jira, and Adobe Creative Cloud.
For example, if you're an organization that's already using Freshdesk as perhaps a customer ticketing system, you can integrate that with Teams without having to choose between the two and gaining the added unified functionality across the board.
Teams can really become that kind of Swiss Army Knife-like tool for not only communication and collaboration within your organization (and with external users as well as customers with the right plugins), but for a huge portion (if not all) of your application ecosystem.
Are you ready to take your collaboration and communication to another level with Microsoft Teams?
This was just a quick overview of the Teams interface, what you'd see, what kinds of tools that your end users would see, but I still hope you now feel more informed about what you can expect from Microsoft Teams.
Kelser is a certified Microsoft partner and we've been helping businesses in Connecticut and Massachusetts improve the productivity of their workforce with Microsoft products for decades.
If you see an area where you think Teams could open things up at your organization or connect your employees in ways you might not have been able to before, we'd be happy to dig into that more with you.