What is HPE 3PAR StoreServ Storage?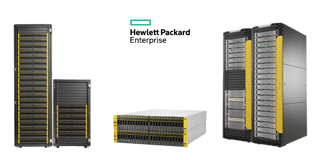 When HPE acquired 3PAR back in 2010, their Storage Array Network got a boost that made them a contender in data security, and storage against companies like Dell EMC and IBM. So far, this flash-optimized data security has successfully competed in the mid-range, and enterprise level storage arenas.
So, let's take a look at how HPE 3PAR Storage works:
What is HPE 3PAR Storage
HPE 3PAR StoreServ Storage is a family of flash-optimized systems that offer rapid, and automated provisioning. It leverages a multi-tenant design, and uses hardware for deduplication. Furthermore, it does all this in a single, tier-1 storage system designed for data security, and availability.
StoreServ offers 8-times faster provisioning than non-flash alternatives, and 75% capacity savings. The HPE 3PAR pricing breaks down to about $1.50 per usable GB, which can vary depending on the StoreServ solution.
Within its StoreServ line, HPE offers a number of 3PAR storage options. Beginning with their affordable mid-range product, the StoreServ 8000 Storage System, and ending at the top of the scale with the enterprise-class StoreServ 20000 Storage System, there is a StoreServ offering for every level client.
Technical Overview
Let's look at the two options mentioned above, the 8000 and the 20000:
The StoreServ 8000 is an entry-level flash (/hybrid) storage system. It offers up to 4 controller nodes, and 4-24 host ports. It operates on 0-8 fibre channels, and has a maximum raw capacity of 750 to 3,000TiBs.
The StoreServ 20000 is a more advanced machine, still offering a flash, and hybrid environment for enterprises looking to do massive storage consolidation. It has double the controller nodes, and can go up to 160 host ports. It operates on fibre channels between 0-160, and it has a raw capacity of 3,900 to 6,000 TiB.
Integration
For many companies looking to build, or add to a SAN, they have a mixed environment that requires new technologies to integrate with existing platforms, hardware, and software. HPE's 3PAR storage does just that.
3PAR has long been a partner with VMWare, which offers relatively seamless integration with the vSphere, and vCenter Server. By utilizing plug-ins for provisioning, 3PAR storage integrates nicely with VMWare solutions.
VMWare isn't the only integration for 3PAR, as it also supports a number of Windows Server features, including Offline Data Transfer (ODX), and a host of data security features.
Architecture
The architecture of 3PAR StoreServ solutions was built for scalability. Offering products that range from mid-range to high enterprise level, 3PAR has scalable solutions that permit seamless upgrades from one level to the next through new applications, and workloads. Plus, they can do it in one, automatically-tiered storage array.

3PAR StoreServ offers a 'thin built-in' with their ASIC technology. It works extremely well in virtual environments, permitting double virtual-machine density for increased consolidation. When combined with Rapid RAID, it also allows users to scale up to RAID mirroring storage capacities.
Another feature is its Mesh-Active controller for virtualized, and cloud environments. This offers the best of both worlds in terms of modular, and monolithic environments.
3PAR's architecture is largely built around virtualization, and cloud environments, as made evident by their fine-grained virtualization, and wide striping architecture. With this technology, you can allocate units to virtual volumes.
Setting up HPE 3PAR Storage
While many enterprise-level 3PAR clients will have the on-staff capabilities to safely set up their storage arrays, their mid-range products are often desired in environments that lack the staffing to properly setup the technology. If you need help selecting products, or understanding scalability verticals, give us a call or send us an email today.
---