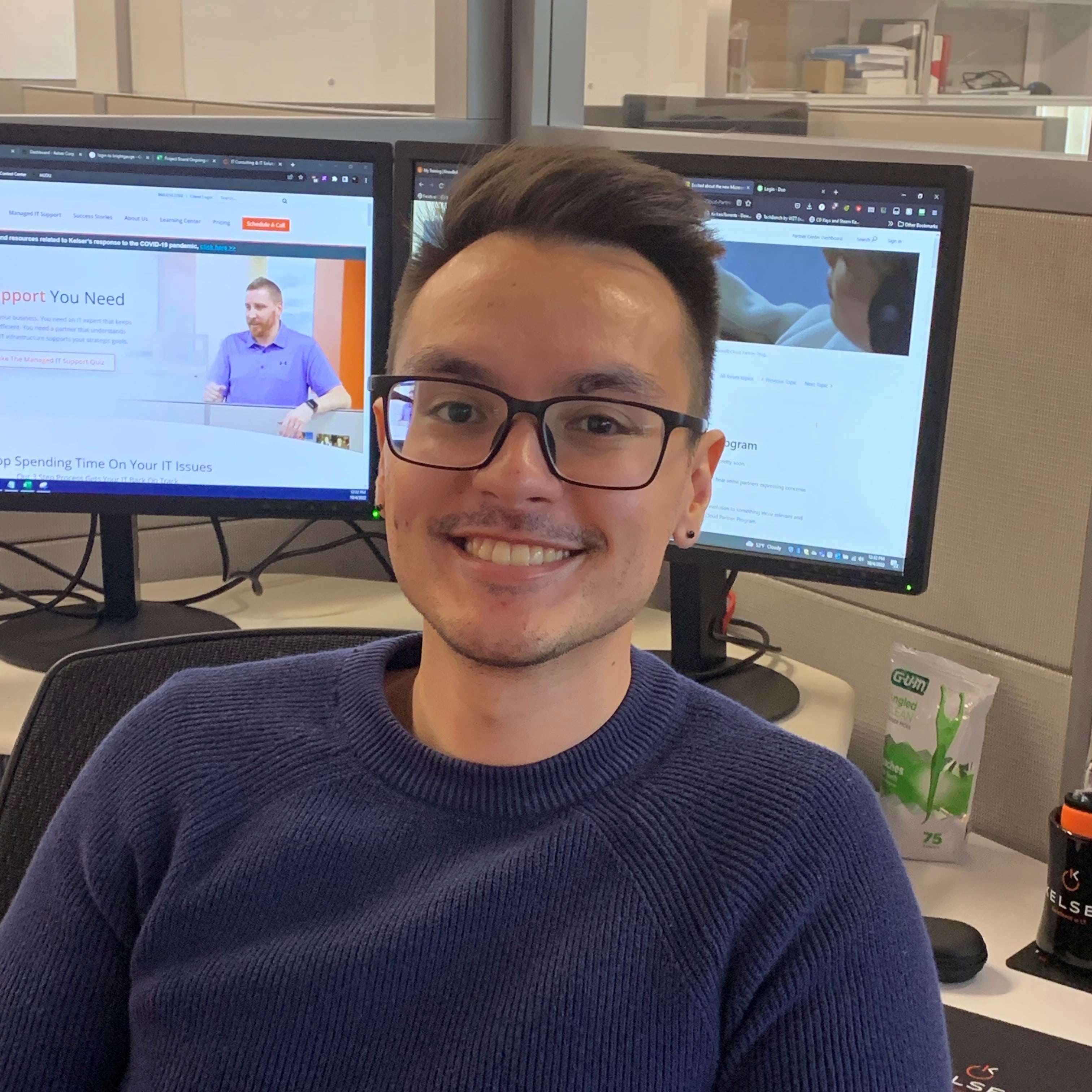 10 Things You Can Do To Improve Your Company's Cybersecurity
Editor's note: This article was originally published in 2016, but has been updated to reflect current information and technology advances.
Technology is playing an increasingly important role in the world of business. Are you placing enough emphasis on cybersecurity and data security? Are you giving it much thought at all? If not, you may unknowingly be exposing your organization to potential cyber threats.
According to a 2022 study conducted by IBM, the average cost of a data breach is currently $4.35 million, an increase of 12.7% from the number cited in IBM's 2020 report. The use of ransomware continues to increase and new threats emerge every day.
As a managed IT support provider, Kelser works with organizations just like yours to provide proactive care and maintenance that positions your IT infrastructure to be safe, available, and efficient, while helping reduce the threat of cyber attacks.
We know that managed IT isn't the right solution for everyone though and that's why we post articles like this that give business leaders like you tips you can use to stay safe with or without our help.
In this article, we'll walk you through 10 relatively simple (but incredibly important) actions you can take to improve your company's cybersecurity.
This list is based on Kelser's decades of experience and the actions included here will help prevent you from becoming the next victim.
10 Steps Toward Stronger Cybersecurity
No organization wants to be the next victim of cyber crime. Here are 10 tips we've put together that you can implement to help keep your organization safe.
1. Advocate A Security Culture
Having a security culture means that security is a constant state of mind for every employee.
Employees at all levels can be your greatest cybersecurity asset or your weakest link, so it's important to educate them about the threats to look for, the actions to take, and the role they play in keeping your organization safe.
Cybersecurity Policies & Procedures
If you don't already have them, consider implementing cybersecurity policies and procedures to ensure that everyone has the same information and is held to the same standard. Review and update this information regularly.
Employee Awareness Training
Another way to keep security top of mind is through ongoing employee awareness training. Read this article to learn three things every employee awareness training should include.
2. Keep Applications & Operating Systems Up To Date
Developers and software publishers regularly release software updates designed to increase security against cyberthreats. Instead of viewing these updates as a burden, try to view them as a welcome security update.
Install updates quickly to ensure your application and operating systems have the latest protections against cyber threats.
3. Maintain Current Backups
The biggest cybersecurity threat facing your business today continues to be ransomware, but it isn't the only threat.
Guard against cybersecurity threats of any type by maintaining current backups of your data. Current (and accessible) backups, will minimize your organization's risk of long-term shutdown and lost revenue if you experience a cybersecurity event.
4. Restrict Access
Smaller organizations often give users full access to install software or change settings on their devices. Sometimes they also can access sensitive information. While this can be convenient because it limits the need for IT oversight, it also takes away a major layer of protection.
Users might accidentally click on a malicious attachment or visit a compromised website, exposing your infrastructure to serious cyber threats. Or, they may be able to access sensitive internal information.
Restricting access to only what is necessary helps keep your information safe.
5. Deploy A Next-Generation Firewall
A firewall is a security tool that monitors traffic traveling between networks. It blocks or allows traffic based on security parameters defined by your organization.
Modern firewalls protect your organization from threats like ransomware, crafted packet attacks, and exploits targeting unpatched applications or operating systems.
They deeply inspect traffic for unusual behavior and malware and protect your users through content filtering. Learn what you need to know about firewalls in this article.
6. Use Anti-Virus & Anti-Malware Software
Investing in anti-virus and anti-malware offers protection against the latest viruses as well as analytic and monitoring tools that identify suspicious network activities before they affect your infrastructure.
There are numerous commercially available options and many IT providers offer this as one of their services.
According to Microsoft, systems that run expired security software are four times more likely to be infected with malware. Keep this important software updated.
7. Track Emerging Cybersecurity Threats
Remaining secure in the digital age requires learning as much as you can about the latest cybersecurity threats as they emerge. Ransomware, which can encrypt your hard drives and hold your data for ransom, is a big threat now.
Cybersecurity is always changing and never finished. What was good enough last year (or last month) may no longer be adequate protection for your organization. Stay on top of the latest threats and update your protections frequently.
8. Password Protect Mobile Devices
Mobile devices have changed the way we work, adding immeasurable convenience. But, when employees access email, applications, or data from their mobile devices, there is an inherent security risk.
Keeping these devices and the information they contain secure is important in today's increasingly remote work climate. Passcodes keep information safe when devices fall into the wrong hands. Protect all data, even if it means an extra step to unlock a phone or tablet.
9. Password Protect Wi-Fi Networks
Letting anyone onto your network essentially opens the door for them to access all of your files and applications, potentially compromising the security of your data.
Password protecting your network helps make sure that your business isn't on the hook for any illicit or otherwise illegal activity performed by people who shouldn't have access in the first place (while simultaneously limiting your exposure to cyber threats).
10. Implement Multi-Factor Authentication
Multi-factor authentication (MFA) adds another layer of security on top of a traditional username and password, requiring a combination of information to authenticate users and confirm their identities before providing access to data.
MFA typically requires:
something you know (your username and password), and
something you have (your MFA token - which could be a code on your phone, a text message you receive, or a physical token).
MFA adds another layer of complexity that somebody has to get through before they can get to your data. And, with MFA, users may not need to update passwords as frequently - simultaneously increasing security and making life easier for users.
Continue Emphasizing Cybersecurity
In this article, we've touched on 10 cybersecurity tips you can implement immediately in your organization.
We talked about advocating a security culture, keeping applications and operating systems up to date, maintaining current backups, restricting access, deploying a next-generation firewall, using anti-virus and anti-malware software, tracking emerging cyberthreats, password-protecting mobile devices and wi-fi networks, and implementing MFA.
To remain protected in the digital age, small, incremental changes to your existing infrastructure can make all the difference.
Never stop working to improve your efforts and never assume that you've done enough to remain protected. Cyberthreats are constantly emerging and protection requires a continuous journey and ongoing attention.
If you have a full complement of IT professionals on staff, you can likely implement these tips on your own. If you are considering working with an external IT provider, we encourage you to compare several providers.
Our 40 years in the IT business have shown us the importance of investing the time upfront to ensure that you get an IT provider that is the right fit. Wondering how to do that? Learn the best questions to ask before signing with an IT services provider.
Already in the process of evaluating IT providers? Make sure you know how to choose the right IT provider and the criteria you should use.
Prefer to talk to a person? Click the button below and fill out the form. Provide your name and email address, so one of our experts can contact you (within 24 hours) to explore the possibility of working together.
(Don't worry - we don't sell your information or use it to barrage you with emails. You'll receive one email confirming receipt of your form and another to schedule a call at your convenience.)