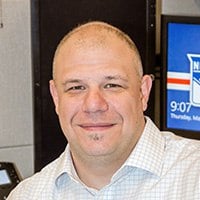 What is Microsoft Teams and how can it help your remote workers?
As I've been working remotely for the past several weeks, I started thinking about all the different software that's replaced our typical office interactions.
The conference room has been replaced by video conferencing software like Zoom. Popping over the cubicle wall to talk has now become instant messaging like Slack.
Email and phone are basically the same – especially if you have a soft phone or VoIP capability. File sharing and collaboration is also, depending on what you had setup previously, mostly the same with software like Dropbox or your traditional file servers accessed through a VPN.
But what all this software doesn't replace is the platform to have all these interactions happen and interact with one another. Previously that was the office itself.
That's when I thought of Microsoft Teams – so I made this video:
You may be using Teams already or if you're a Microsoft 365 (formerly O365) subscriber you may have at least seen its purple logo pop-up recently in your start menu.
It came to mind when thinking about all the different software we're using to stay connected and collaborate remotely. Teams gives you a platform to take all the single things each of those other applications does well and combine it within a single application.
Teams somewhat replaces some familiar Microsoft applications
Teams is a productivity and collaboration platform that allows you to video message or make/schedule video conference calls, instant message, file share, and collaborate on file editing in real time.
If you're an Microsoft 365 subscriber or have used Microsoft Office applications recently, this might sound like Microsoft's Skype for Business, SharePoint, and OneDrive all delivered on a single platform.
Essentially, that's fair to say from a functionality standpoint. Though Microsoft isn't formally sun-setting all those other applications in Microsoft 365 (except for Skype for Business).
Teams supports apps and integrations
Taking that single collaboration platform for all your apps, tools, and services in one place mentality a step further, Teams also supports apps and integrations.
There are obvious ones such as other Microsoft 365 applications (an example would be having your Outlook calendar available in Teams for scheduling, etc.) but there are many more that may not have come to mind right away.
For example, Twitter, Trello, Jira, Adobe Creative Cloud, and GitHub all have integrations with Teams. There's currently over 400 apps and integrations available for Teams through Microsoft AppSource so odds are you may find some of the other services you use among them.
One platform means improved security and ease of use
If you're currently using many different services and software for all the functionality I mentioned earlier (video calling, video conferencing, instant messaging, file sharing, and file collaboration) you're then also managing all those different services the best you can.
Beyond that, across all those services, you may not have as much control as you'd like or even certain safeguards in place. You can likely setup accounts, reset passwords, and have some control over access rights but not as much as you would if you had access to the back end of these services.
That's where Teams stands out, especially if you're already using Microsoft 365 today. You have similar control and access as you do from a front and back-end prospective as the other Microsoft 365 applications you use today.
There are also some convenient security features – which are two things that don't typically find themselves in the same breath - since you're on that single platform.
Multi-factor authentication is available as it is for the rest of the Microsoft 365 suite. Users also have fewer passwords to manage since Teams is in that same Microsoft 365 suite – even more streamlined if you have your Active Directory synced.
One platform also means potential cost savings
Related to the above point, Teams is already available to you if you're an Microsoft 365 subscriber. It's either included in your current tier or for an additional cost.
There's two primary ways Teams could potentially save costs for your organization:
If you're using multiple services to provide the functionality in Teams (especially if you're already using Microsoft 365), the cost to add Teams to your subscription if it isn't already included may be less than you're paying for all those other services collectively. If you think Teams could provide your employees with similar performance and functionality, it's worth exploring.


If you're using multiple services to provide the functionality in Teams, you're also managing multiple licenses and multiple agreements across those other services. Perhaps when an employee leaves or your needs change, removing their license from one of those services falls through the cracks (it happens). By licensing fewer services, you reduce the chance of that happening.
Those scenarios may only save your organization $10-15 per month but that savings accumulates over time. That doesn't account for the reduced employee hours spent managing multiple other platforms.
Wrapping up
As we all continually optimize and simplify the way we work and collaborate remotely, it's worthwhile to evaluate the services we're using today and if they're meeting our needs.
Microsoft Teams may not be the best fit for every organization, but if you're already using Microsoft 365 it's something already available in your toolkit that could potentially benefit your admins and users alike.
Kelser is a certified Microsoft partner and we've been rolling out Microsoft 365 (as well as other Microsoft productivity software and applications) to local businesses in Connecticut and Massachusetts for decades. We know how to minimize disruptions and downtime, so your organization gets the most out of your investment right from the beginning.
If you're already an Microsoft 365 subscriber, we're happy to take a deeper dive into Teams with you and see if it'd help your remote collaboration needs.
If you're not an Microsoft 365 subscriber but the functionality above sounds intriguing, please feel free to reach out to us to discuss if it could fit your remote needs.
Either way, I hope you have a bit more insight into the remote collaboration available to you and your employees to help make your remote workplaces as productive as they can be.