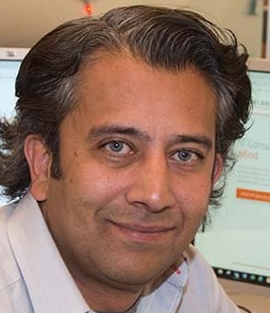 Transitions are Handled Seamlessly When Personnel Changes Take Place
No one gets through life alone. We need doctors for our health, stylists for our hair, plumbers for our pipes and mechanics for our vehicles. And, of course, managed services providers for our IT infrastructure.
One thing that all of the workers in these professions have in common: When you find a good one, you don't want to lose them.
But that's not reality. People retire, leave companies and switch positions. In this era of the Great Resignation, the turnover rate is astounding. This is when the stability of a company matters the most.
Employees have left Kelser in the past and will again in the future. But the seamlessness of the transition is what is most important to our clients.
They may be sad, as we are, to see their main point of contact at Kelser leave, but knowing there will be no lapse in service or hiccup along the way is paramount for them and their business.
As a systems engineer and technical alignment manager (TAM) at Kelser, I understand the relationship between a business owner and their managed services provider. There's no better comfort than feeling safe and secure.
What Role Does a TAM Serve?
Click here for a detailed description of a TAM, but I'll also quickly go over it here. A TAM uses a balance of technical and people skills to foster trusting relationships with customers that ensure the organization's best interests are front and center.
The role of the TAM is to go beyond the traditional support model and intimately know the business. Each individual client is paired with a TAM who gets to know not only the tech, but the business environment as well.
The TAM is the eyes and the ears, the boots on the ground if you will. They interface on a monthly basis with the stakeholders, continuously gathering information on critical systems and understanding what the business is currently dealing with.
The tactical information gathered by the TAM is disseminated to engineering or to the vCIO and is then used to create a broader strategic plan.
What Changes When a Staff Member Leaves?
If someone at Kelser leaves, if there's a change in the personnel, what should our customers expect? Let's say a TAM or service delivery manager, someone who has a direct relationship with a customer, gives their two weeks notice.
One of the strengths of the Kelser staff is we all serve different roles to varying degrees. So we have both the capability and the protocols in place that help expedite a transition of knowledge from the departing point of contact to the new one.
Before an employee leaves, we make sure all their data is up to date. There is extensive documentation on the client's environment, their pain points and their future outlook, as well as a record of all tickets and communication with the customer. Knowledge will not be lost in the transition.
While this may seem like a no-brainer, we make sure all the customers are notified. We don't want anyone blindsided, especially during an emergency, when they reach out for help only to find out their Kelser contact is no longer here. Our worst-case scenario is a customer in the dark.
The new TAM will continue on and continue building that trust and keep the relationship going. The method of communication stays the same, and the level of support that our engineers provide won't change. Kelser will be there 24/7.
A Team Effort
There's not just one person working on an account the entire time. At Kelser, we have different levels of support. Each of our engineers has a few customers for whom they serve as a TAM, and we're versatile in our abilities. You might say we have a particular set of skills.
The TAM is responsible for the technical aspects of the environment, making sure that the client's environment is documented to the "T" as to what everything is, where everything goes, and how they operate.
But at the support level, in terms of daily tickets or issues that arise, we have a whole team that is there for that support. We have the financial team, purchasing departments, the service delivery manager, they're all there.
No one ever wants to hear that their favorite IT person will no longer be working with them. But, even if some of the names and faces change, the trust Kelser has earned from its clients over the decades will remain.