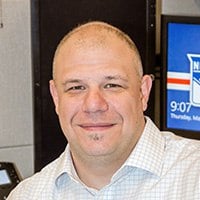 What Value Do Strategic Business/IT Partnerships Create?
Whether you work with an internal or external IT support team, you may not be fully capitalizing on the value that strategic business/IT partnerships can provide.
While 25 to 30 years ago, most IT groups were reactive organizations that provided hardware, software, and repair services, technology and the role of IT providers has evolved.
But with the evolution of technology to the backbone of business, the role of IT organizations has changed.
In my 13 years of IT experience, it's become apparent to me that business leaders who develop a symbiotic relationship with their IT providers realize greater overall business benefits.
But how do you get there? In this article, I'll explain the value that a proactive, strategic partnership with your IT provider can offer and give you concrete examples of this philosophy at work.
As manager of the service desk at Kelser Corporation, a managed IT support services provider, I see every day the way effective partnerships work to benefit businesses. I also see customers that don't take full advantage of the value of a truly collaborative relationship with their internal or external technology support provider.
What Are My Options For IT Support?
Let's start at the top. You may have an internal IT staff or you may work with an external IT support provider.
---
Related article: Internal vs. Outsourced IT Support: An Honest Comparison
---
If you don't have an internal IT support staff or are looking to supplement a small internal staff, you have two main options for external support: traditional break/fix and managed IT support services.
As the name implies, break/fix IT support is reactive. When something breaks, a technical expert comes to fix it.
---
Related article: What Is A Break/fix IT Provider? The Pros & Cons
---
With the increasing reliance on technology in the business world and the continuing evolution of cyber threats, some organizations are choosing proactive partnerships with managed IT support service providers. These relationships ensure ongoing monitoring and maintenance of networks and devices.
With managed IT, networks and devices are constantly monitored for unauthorized access, updated to ensure the latest security enhancements, and ready for what's next.
---
Related article: Managed IT Support: The Pros & Cons
---
Whether you use internal or external IT resources, it's important to realize the full benefit these relationships can offer.
What Can Your IT Partner Offer Beyond Hardware & Services?
While traditionally IT organizations offer procurement and servicing of hardware and software, today many IT providers offer that and much more, creating added value to the business.
Here are 5 ways partnering with your IT support team can enhance your business:
1. Alignment
When you involve your IT team in business discussions, they can ensure that you have the best technology options to support your goals.
Business leaders often forget that even seemingly innocuous decisions like adding staff can affect technology.
For example, if you plan to add 10 staff members, the IT team needs to consider more than ordering and setting up the devices. They need to understand the potential impact of the extra traffic on your network, the location of wireless access points, and more.
When your technology team has advanced notice of changes in your business, they can ensure that the right tools are in place to support your business goals and keep your technology infrastructure running smoothly with no glitches and no hiccups.
2. Care For Your Entire Network
A strategic IT support team provides proactive care for your entire network.
This proactive care ensures the stability of your network and keeps it safe, available, and efficient. From devices to servers to wireless access points to cybersecurity protections, a strategic partnership with your IT support team means that your network downtime is minimal.
3. Direction
When your IT support team is part of your strategic business planning team, they can provide invaluable advice about the direction of your IT that marries their technical expertise, knowledge of your infrastructure, and your future business goals.
Strategic business/IT partnerships often include a chief information officer (CIO) or virtual chief information officer (VCIO) who provides this service.
4. Purchasing Advantages
While it may sometimes seem easier and faster to run out and buy a new device (printer, phone, laptop) when yours stops working, the best way to ensure that you get tools that will perform seamlessly with the rest of your devices and network infrastructure is to involve your IT team.
In my experience, there are too many times when our customers are expecting us to support devices they've installed on their network without our knowledge. That presents a significant security issue because your IT team can't support what it doesn't know exists.
Compatibility
It can often take more time in the long run for your IT team to develop a way for your quick purchase to interact with the rest of your business applications and technology infrastructure than if you had involved them in the buying decision from the beginning.
For example, your laptop dies. You immediately go and get a new one. But, maybe the device you buy isn't compatible with some of the applications your business uses. Now you have a new device, which is great, but maybe it doesn't have a seamless way to support your business needs.
Your IT experts understand the available technology and will ask questions to ensure you get the best device for your needs while making sure it works with the rest of your infrastructure.
Pricing
Your IT team often has established vendor relationships that yield pricing discounts for your business. These relationships also come into play when you have an issue with your technology.
Rather than users being shuffled from the original equipment manufacturer to the cloud provider to the software company and back again, the IT team uses its vendor relationships to manage that entire process streamlining issue resolution and saving you time, money, and frustration.
5. Holistic Approach
Proactive IT teams look out for your entire business environment.
They look at how different organizations within your business use technology to get work done. They offer strategic advice, consistent care, repeatable processes, and effective fixes that minimize downtime and provide a stable, sustainable technology infrastructure.
In the same way that a medical doctor proactively monitors your overall health to identify and mitigate issues before they become catastrophic, your IT support team can resolve your daily issues and track and remedy persistent pain points to maximize the overall health and efficiency of your entire organization.
Can Every Business Benefit From a Strategic IT Partnership?
Based on my experience, I can honestly say that every business can benefit from a strategic partnership with its IT team. I'm not just saying that, I've seen it happen.
Some of the benefits realized include operational efficiencies, lower financial costs, time savings, and fewer frustrated users.
How Can You Develop A Strategic Business/IT Partnership?
The first thing I always say is to think of your IT support organization as more than a group of people who procure and plug-in equipment. There is so much more your IT organization can do to help your business succeed.
In this article, we've talked about alignment, care for your entire network, direction, purchasing advantages, and a holistic approach.
Whether you have an internal IT staff or rely on an external IT team, there are many advantages to optimizing the strategic partnership between your leadership team and your IT folks.
All it takes is inviting your IT staff to become a strategic business partner. Involve the technology folks in your business discussions. Encourage them to weigh in on your business goals and how technology can facilitate your success. Asking questions costs nothing, but can save time and money in the long run.
Take advantage of the knowledge your IT organization has to standardize your technology or to customize the exact solution your organization needs.
If you don't have an internal IT staff or they are too tied up with the daily tech and service requirements, you may be considering working with an external team that can either handle all of your IT needs or supplement the skills of your in-house team.
---
Related article: In-house IT Staff Vs. Managed IT: Cost
---
Kelser provides a full complement of managed IT support services for businesses across several industries.
We know that managed IT isn't the right solution for every organization. So rather than try to convince you to work with us, we provide unbiased information business leaders like you can use to make the best technology decision for your organization.
If you find yourself wondering about your options and we have resources to help you learn more about what managed IT includes and how much it costs.
Maybe you want to know whether your business is a good candidate for managed IT. Click on the link below for a checklist you can use to decide for yourself whether it is a good solution for you.