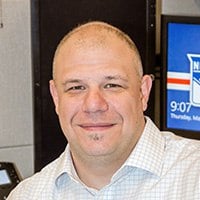 3 Ways To Make Your IT Service More Efficient (& Improve Morale)
We've all been there. When our devices aren't working, it's frustrating. The only thing we care about is getting things working again.
As manager of Kelser's IT service desk, I may be more familiar than others with the need to provide fast, efficient solutions. I also understand the importance of maintaining the morale of users and the IT service team.
In this article, I'll highlight three ways to make IT service more efficient and, in the process, improve morale across the board.
How Can I Make IT Service More Efficient (& Improve Morale In The Process)?
Everyone who runs a business is all about efficiency. The key is how to increase efficiency without negatively impacting morale.
When it comes to IT service, I have three thoughts you can implement today!
1. Use Metrics
In the not too distant past, IT service was a bit of an unknown. Your issue could be resolved quickly, or it could seem like your service request entered a black hole.
Today, most (if not all) IT organizations track metrics to improve transparency. The metrics typically include how many tickets have been opened, how many have been resolved, response time per ticket, and more. (This isn't rocket science, right?)
If used to the fullest potential, metrics also can be used to improve morale.
While the opinion of users is an important measure of customer satisfaction, metrics can be used to generate reports that provide internal and external customers with granular, objective data.
Reports provide customers with real-world data that validates the efficiency of the IT service staff and improve the reputation of your IT service staff.
This lets customers see the value they are getting for their investment and makes it less likely that users will simply dismiss the IT organization as unresponsive. This data improves the relationship (and morale) on both sides.
Dashboards provide a quick way to track metrics and see which service team members are overloaded with requests to balance the workload while simultaneously improving response time and burnout.
With a dashboard, people can see right in front of them what tickets are open, what's been resolved, and the last time someone touched it. This gives your organization a step up in addressing efficiency. It can also provide insight as to whether you have the right people in the right job.
Another efficiency metric is how much time the service people are spending on a particular user, customer, or organization. So, if an internal or external customer has five users and we are spending 10 hours per machine on a regular basis, is that the best use of our time and talent?
2. Set Up Self-Service
As much as possible, set up systems so users can access self-service solutions for routine IT issues.
You don't need an engineer to handle things like password re-sets when you can set up an automatic system that will send a password reset within 30 minutes of when a user forgets their password five times.
This approach alleviates the user's frustration. They know that in 30 minutes their issue will be resolved. It also reduces the load on your IT service staff, freeing them to concentrate on more complex issues that really require their expertise.
3. Rely On The Ticketing System
The number one way to improve efficiency is to rely on the IT service ticketing system. Rather than have your IT service staff field ad hoc requests, make sure that all users communicate everything through the ticketing system.
This streamlines efficiency because any member of the IT service staff can go in and immediately see the current status of any ticket, the work that has been done so far to resolve the issue, and other pertinent information related to the problem.
How Else Can You Make Your IT Service More Efficient?
The fact is that most IT service people are dedicated to the task and getting the staffing level exactly right to meet every response is tricky.
In this article, we've talked about three ways to easily improve IT service efficiency and simultaneously improve morale for your users and your IT staff. We talked about using metrics to do more than track information, setting up self-service for routine IT needs, and using the IT ticketing system to track all communication related to issues.
Armed with the information I've outlined in this article, you now know three easy ways to improve the efficiency of your IT service organization and improve the morale of service staff and users.
But, there are additional ways you can improve IT service efficiency and morale.
Whether you have a full complement of IT professionals, a small IT organization or no IT staff, you may want to consider partnering with an external IT organization to address your IT needs.
For example, maybe your internal staff does a good job managing desktop support, but you need help with advanced networking, strategic planning, or cloud migration.
Or maybe you have someone who handles infrastructure and network, but you need service desk support. Outside IT providers can help shore up the areas where you need additional help.
At Kelser, we provide comprehensive managed IT services for customers. We know that managed IT isn't right for everyone and that's why we are committed to providing the information people like you need to make the IT decision that's right for you.
If you've been wondering what managed IT is all about, find out everything you need to know in this article: How Much Does Managed IT Cost? What's Usually Included?
Could managed IT be a solution for your organization? Take this short quiz to see if it might be the solution you need.