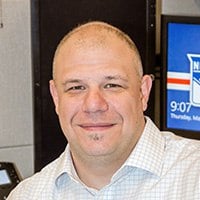 Everything You Need To Know About IT Service Tickets
We've all been there. You come in to work early ready to tackle the challenges of the day and find that the application you need to complete your most important won't load. If you are like me, you take a deep breath, reboot your device, and cross your fingers. No change. Ugh!
You submit a help ticket to your IT service desk and hope that your issue will be near the top of the list, but who knows how service tickets are prioritized, right?
As manager of the Kelser service desk, I answer this question for customers all of the time.
In this article, I'll explain what an IT service ticket is, when you should submit one, what information to include, what happens after you submit a service ticket, and the advantages that scheduling IT service tickets provides for users and providers.
After reading this article, you'll have a comprehensive understanding of the IT service ticketing process and will no longer wonder what happens once you submit a ticket. This knowledge will give you confidence that your IT issues are tracked and will be resolved swiftly and efficiently.
What Is A Service Ticket?
An IT service ticket is an acknowledgment filed by a user to indicate that they are having a performance issue with their device. Tickets are typically submitted to an internal or external service or help desk. Sometimes the service process can be initiated by a phone call to IT support.
When Should Users Submit A Service Ticket?
When your technology isn't performing as usual, submit a ticket. In the same way that you visit the doctor when you have symptoms, submit a ticket when you notice symptoms that something is wrong with your technology. You don't have to know what is wrong; that's our job.
In doubt? Submit a ticket. Most IT providers don't mind checking out minor problems, especially if by doing so they can prevent them from turning into a bigger issue.
What Information Should A Service Ticket Include?
Wondering what information to include in a service ticket? I always encourage people to provide as much information as possible within a ticket. The more information your IT provider has to work with, the better the chances they will be able to work with you to resolve the issue on the first phone call.
Include as much information as you can about the issue, including:
how many people are affected
the urgency
the best way to reach you (including during and after hours)
error messages (maybe a screenshot of what the error messages say).
The more information, the better!

What Happens After You Submit A Service Ticket?
When a user submits a services ticket either electronically or via a telephone call to the service desk, a dispatcher routes the ticket to the appropriate internal technician or engineer to be addressed based on an internal prioritization system. Most providers provide a guaranteed response time in their agreements.
At Kelser we assign tickets to level one and two engineers to expedite issues and resolve as many tickets as possible on the first call so that users can be up and running as quickly as possible.
What Does It Mean When A Provider Offers Scheduled Service Tickets?
All IT providers track service tickets. Some are more effective than others.
Many providers offer scheduled service tickets. This can work in a variety of ways, but typically it means that when a user submits a service ticket, they receive a window of time in which they can expect to hear back from the provider.
What Are The Benefits Of IT Service Scheduling For Users and Providers?
When IT providers offer scheduled service, there are distinct advantages for the provider and for users/customers.
For the user
When users know that the IT provider will call at a given time (or within a certain window of time,) they can arrange to be available to receive the call rather than waiting expectantly with no idea of when the provider might call and calling the IT provider multiple times to schedule service.
This allows the user to schedule their time effectively and achieve the fastest-possible resolution.
Some providers allow users the opportunity to reschedule if the suggested time is not convenient. This gives users more control over when they receive service.
For the provider
Scheduling service tickets makes it possible for providers to prioritize tickets by urgency.
It also makes it possible for providers to have the appropriate response professionals available during the service window, improving the chances that issues can be resolved on the first call and reducing the time spent trying to contact users about their issues.
In addition, some providers offer customers a limited number of opportunities to reschedule the service window and if a time can't be scheduled they require users to resubmit the ticket. This policy is a way for providers to optimize their service time.
For example, a user may resolve an issue on their own and forget to cancel the ticket. Service engineers spend time trying to connect with the user only to find out the issue has been addressed. Offering a limited number of re-schedule opportunities before closing the ticket ensures that service engineers concentrate on current, unresolved issues rather than trying to schedule with users whose issue has already been addressed.
What's The Bottom Line On IT Service?
Whether you work with an internal or outside IT provider, you must understand how your service tickets will be handled.
After reading this article, you understand what a service ticket is, when to submit one, what information to include, and what happens after you submit a ticket. You also know what it means when a provider offers scheduled service tickets and the advantages to the provider and users.
Armed with this information, you can confidently ask questions that will ensure you get the service you and your users need.
Large organizations typically have in-house service providers. Sometimes when the service staff is stretched thin, the internal group can be supplemented with an external provider.
Small organizations may not have the IT staff they need to handle the service requirements of their users. They may rely on an external provider to handle all of their service desk needs.
At Kelser. we provide a full complement of managed IT services, including resolving requests for help with IT issues. We know that managed IT isn't the right solution for every business, so we provide articles like these to ensure that business leaders like you have all of the information you need to make the right IT decisions for your organization.
Wondering what managed IT includes? Check out this article: What Does Managed IT Cost? What's Usually Included?
Or, find out if managed services are right for you by taking the short quiz below.