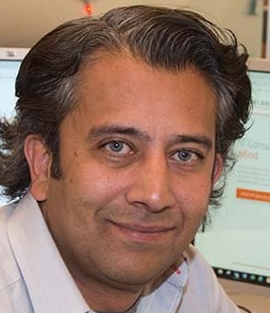 Technical Alignment Manager (TAM) Visits: Strategic IT Alignment Check-Ins
Whether your organization has an internal IT staff or not, it's important that your IT infrastructure is cared for and positioned to support your business goals and strategy.
That's where a technical alignment manager (TAM) can provide valuable guidance.
At Kelser, we provide customers with a TAM as part of our managed IT support services.
Since we know that managed IT support is not right for every organization, we publish articles like this to provide unbiased information about IT topics that business leaders like you can use to decide the best solution for your organization.
I've been at Kelser for more than 30 years. In my current role as a TAM, I build relationships with customers and ensure that their technology is ready for what's next.
In this article, I'll explain what a TAM does, why ongoing communication is key to success, and how this relationship ensures that your technology and business goals are aligned.
What Is A Technical Alignment Manager?
A technical alignment manager is an IT expert who develops an intimate understanding of a customer's IT infrastructure, and uses that knowledge to troubleshoot issues and proactively manage devices, networks, servers, software, and more.
The ultimate result is an infrastructure that is secure, efficient, available, and poised to support your goals.
Effective TAMs optimize customer IT performance through honest advice, technical knowhow, solutions sized to the needs of the organization, and a deep understanding of customer goals and IT infrastructure.
What Does A Technical Alignment Manager Do?
Part of the job of a TAM is to maintain communication with customers. Part of that communication happens during regularly scheduled site visits.
When I visit a customer, I do a physical inspection of all network devices (including firewalls, switches, access points and servers).
I have a checklist with a total of 350-400 items that I verify every time I do a site-visit. The entire process takes a few hours and the goal is to achieve and maintain a 100 percent rating in categories ranging from security to multi-factor authentication to server infrastructure and more.
During site visits, a TAM can discover important information.
Maybe a computer has been deployed without multi-factor authentication.
Or, maybe the client has a switch with 24 port capacity, but only 12 of the ports are actually being used. Following industry best practices, I'll lock out the unused ports to prevent a rogue agent from plugging in an unauthorized laptop to gain access to your network.
I also make sure all of the critical network equipment is plugged into an uninterruptible power supply or UPS to ensure the battery backup maintains internal network power in the event of a power outage. If I find something isn't quite right, I fix it or schedule a time with the customer to remediate it.
Why Is Ongoing Communication With Your TAM Important?
In my experience, it's important for the TAM to visit the customer regularly because it keeps the lines of communication open. I can't tell you the number of times that customers have inadvertently mentioned things during a site visit that could have a potentially huge impact on their IT infrastructure.
The TAM not only provides service and maintenance, but to also works to develop a full understanding of business operations and strategy. Site visits help the TAM keep a better gauge of the customer's IT environment and allows us granular visibility into the way they work.
For example, maybe an employee works at home three days a week and in the office two days. How does she operate? What does she do? How can we make her life better? How can we increase productivity? Maybe instead of using a VPN, we set up a firewall at her house, so when she opens her laptop it's connected to the network.
What Topics Are Important To Discuss During TAM Visits?
In addition to glitches in service or specific technology issues, there are other non-technical subjects that are important to address with your TAM. Here are some of them:
If you are planning to add to your headcount, this is worth mentioning. Even hiring one additional employee could be too much for the network port.
If you are adding 10 employees, that doesn't just mean you need 10 additional computers.
I'll explore if there are network drops that might require additional access points in the locations where these new employees will be working. I'll see if there are network ports available and if the switch is adequate to support 10 more cables.
It's so much more efficient and productive to address these needs before the infrastructure slows to a crawl and impacts the productivity of your entire organization.
Conversely, maybe you are planning a reduction in force (or RIF). You may no longer need leased equipment. Or your licensing agreements might be able to be adjusted to reflect the decreased number of users, yielding savings for your organization.
Maybe business is booming and you are outgrowing your current location. Alert your TAM so they can proactively ensure that your new location will be ready to support your business from day one.
Ordering equipment takes time and you also want to be sure the IT team has the resources scheduled to install everything you'll need.
If you are considering adding new locations to your existing infrastructure, it is important to let the TAM know as soon as possible. This is another opportunity for proactive planning that can help avoid surprises.
It's important to understand the new facility from an IT mapping perspective.
The physical layout, how it is wired, the materials used in construction (i.e. cinderblock vs. sheetrock walls) and other key information will determine the best way to implement optimal technology solutions in the new space.
Do You Need A TAM?
After reading this article, you understand the job of a TAM. Similar to the way monitoring your blood pressure can prevent other more serious consequences, a TAM visit takes a read of the health of your infrastructure.
Only you can decide if your organization would benefit from an ongoing relationship with a technical expert who looks out for your entire network and provides proactive advice to optimize your IT infrastructure.
At Kelser, we offer the services of a TAM and virtual chief information officer, and other technology experts as part of our comprehensive managed IT support solution.
We know that managed IT isn't the right option for every organization, so we publish articles like this that provide unbiased, comprehensive information that business leaders like you can use to evaluate your options and make the best decision for you.
Learn more about what managed IT support includes and what it doesn't include.
Find out if your business is too small for managed it.
If you are considering working with an external IT support provider, we encourage you to check out several options to find one that is the right fit for you. Be sure to ask these important questions when vetting providers.