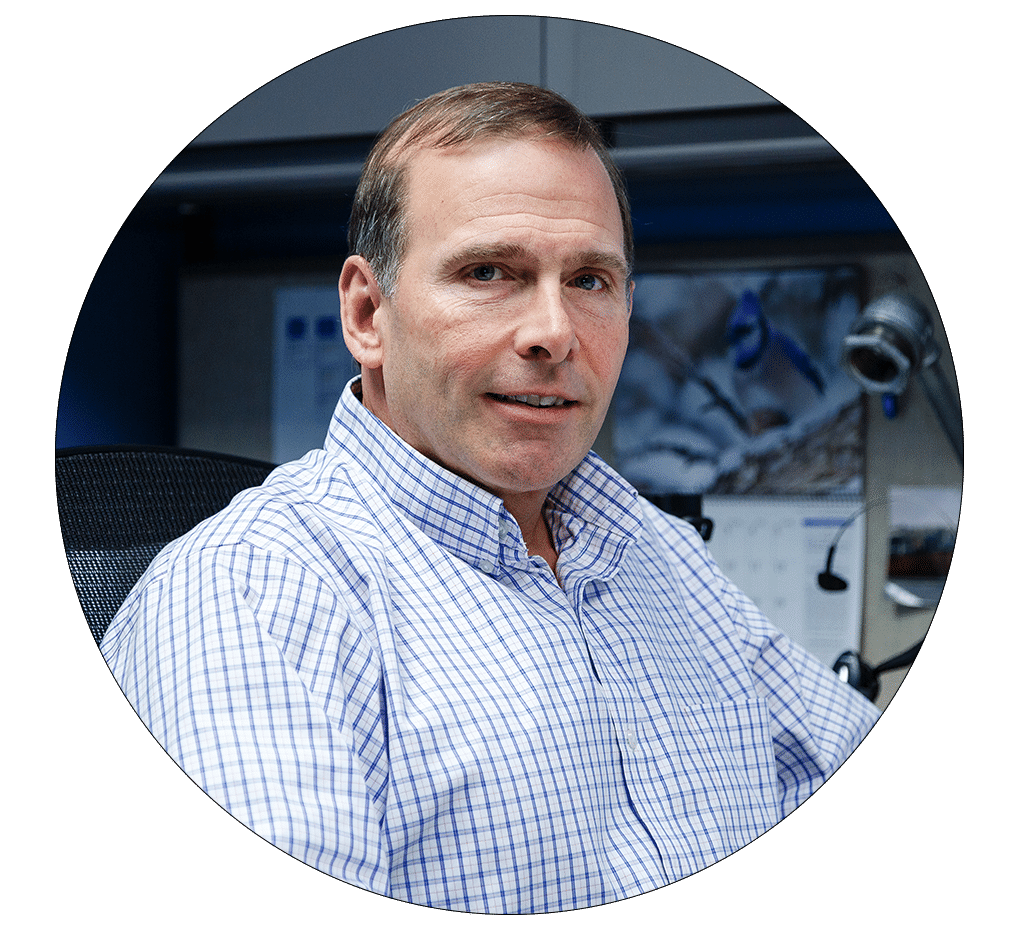 How is the rate for a managed service provider determined?
Every business is different, from the number of employees on staff and devices in use to the long-term goals and aspirations of the owners. That's why a managed service provider can't simply advertise a flat fee on their website. It's not one size fits all. And things always change.
In my over two decades at Kelser, I've witnessed firsthand the technological revolution of the 21st century. Problems and solutions evolve together, further leading to the myriad of factors involved with the pricing of an MSP.
Let's get into what some of those factors are and what a typical company might expect to pay to have all their IT needs met.
Just give me a ballpark number
As an example, let's imagine a 25- or 30-person company with a typical sort of IT environment, maybe a few servers, a wireless network, nothing too crazy.
Kelser would charge somewhere in the ballpark of $3,000 to $4,000 a month, which is a lot less expensive than hiring IT people.
You're getting the benefit of having a broad range of expertise available and you don't have to bring on additional staff. These days, to hire a good senior engineer you're getting into the six figures for just one person.
If you need to hire another employee to handle your employee support or help desk support, now you're looking at another $60,000 to $70,000. And you may need more than one. The cost to support an IT environment correctly adds up very quickly.
That's what makes managed services so appealing. You don't have to bring all that on yourself, and onto your business' bottom line. And that's not even taking into consideration planning for vacations, sick days, or employees leaving the company.
What goes into a quote
How we arrive at that figure is partially predicated on how many end users and devices we are going to monitor, manage, and support. The cost fluctuates based on the size of the environment.
The more employees, devices, and servers you have, the more licenses and bandwidth you're going to need to support that kind of operation. And then there's backup and recovery, mail support, and a variety of different security protections.
Other core services that are part of our foundational offering, regardless of the size of the company we are supporting, include a virtual CIO (vCIO) and technical alignment manager (TAM).
That's not the case with all managed service providers, but in our years of doing business, we've found it to be most effective.
Our model is essentially a fractional CIO, so you're getting the benefit of a CIO-caliber, experienced professional without having to bear the full cost of bringing that person on staff.
The vCIO should be mandatory
At Kelser, the CIO-caliber option is not something we consider optional. We don't believe in doing managed services without utilizing a fractional CIO. It's that important to us.
IT should be a business enabler and a part of a better solution. IT shouldn't be seen as a hindrance or a necessary evil. We've had clients where that was the exact kind of wording they used when we first talked to them. "Yeah, we have to work around IT."
They were not getting what they needed from their IT provider and were looking for a lot more. The CIO level, or strategic advisory and consulting, is an integral part of supporting a customer to the degree that we want to and making the business relationship mutually beneficial to the max.
Areas to save money
In some cases, we'll start working with a company and find out there are a lot of wasted resources. Maybe they have six or seven servers running, and then when we dig in a little bit we'll find out the servers are way underutilized, maybe running at only 10 or 15 percent capacity.
So this company is paying for support, electricity, and upkeep and not getting anything in return. We're able to consolidate the workloads and reduce waste.
Depending on the situation, maybe we'll determine the best strategic move is to transfer some data to the cloud and sunset some of that hardware to save money.
Fees going up are a good thing
When it comes to managed services, an increase in cost is usually reflective of success. I say that because the main reason for a bump-up in fees is the growth of your company.
If a business is opening a new branch or expanding an existing space or going through a wave of hiring, that's more employees, more devices, more infrastructure.
Another example of a situation where the price may go up would be a new business initiative that is going to require an additional subset of networking gear.
Bottom line, there's a fairly direct correlation between the amount of hardware, the number of employees, and the resulting fees.
If you want to negotiate, buy a used car
Sometimes a potential client will try to haggle or get a break or reduction in cost by eliminating an aspect of the service. The important thing to remember is you can't buy managed services by the pound.
A la carte may work for subscribing to streaming services or ordering a meal in a nice restaurant, but it doesn't cut it in the IT world.
If you try that approach, what you're going to end up with is a provider that's counting on your company not needing a lot of support. So, consequently, you're not going to get a lot of support.
Think of it like a golf course. The country club doesn't hire a landscaping service to come by once a week to mow the greens and fairways. They have full-time people dedicated to keeping that course in pristine condition daily.
Sometimes we choose not to do business with a company because they're most interested in the cheapest price. That tells us right off the bat that our philosophies aren't going to mesh and it's not going to be a fruitful business relationship.
Others opt for the "break-fix" model, which is also not part of our philosophy. Proper IT is proactive monitoring. It's proactively patching and upgrading and keeping systems up to date. There's no set-it-and-forget-it in this industry.
Have the pricing conversation first
We try to have the pricing conversation with a potential client in the very beginning stages. We're not going to be the cheapest and we won't be the most expensive in most cases.
We have to first determine whether a customer has the budget — and is willing to spend it — to essentially outsource their IT if they're not currently using a managed provider.
But we don't want to get too far down the road before we talk price. So we give them the best estimate we can before we dive in and gain a full understanding of what it will take to serve each particular client.
Common goals are important
The more you know, and the more information you can get upfront, the easier it is for everybody to get on the same page.
We want to know what a client has coming down the road. Maybe a company is adding a new building. Maybe a planned expansion has the potential to create a zoning issue.
Either way, it helps to know. A client may need an extension of their wireless network, or have a bunch of cabling to install, and devices and machinery to add. We're well equipped to handle almost any challenge, but we're in this together. Help us to help you.
Get a quote that's custom-tailored to your company
We covered a general ballpark cost example earlier. While that helps give some general guidance, it probably only gets you so far in calculating what managed services would cost you.
If you're located in Connecticut, Massachusetts, or Rhode Island, get in touch with us for a no-cost, no-obligation managed services consultation.
We'll explore your current IT and business challenges, determine if and how you could benefit from managed services, and provide you with a no-obligation quote tailored to your business.