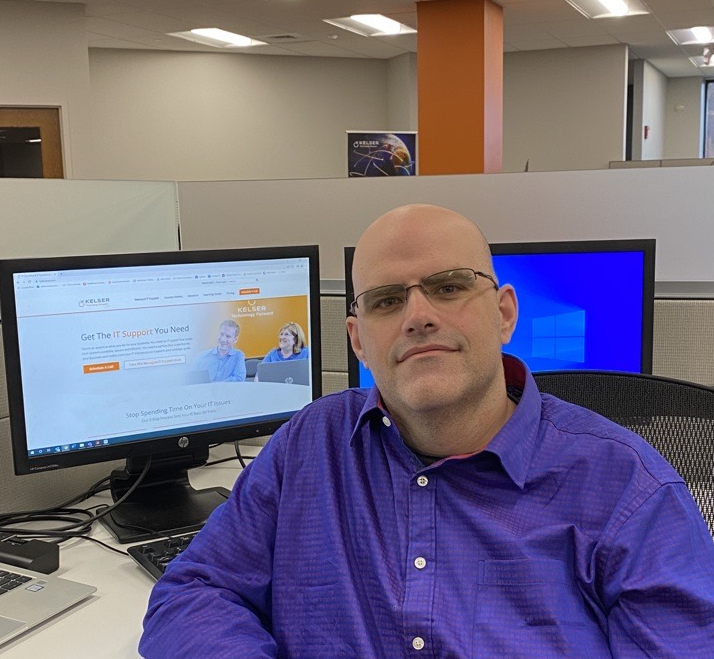 What Is A Normal IT Response & Service Time? 5 Things To Know About SLAs
Whether you are just beginning to think about hiring an IT service provider or have been working with one for years, it's important to understand service level agreements (SLAs).
As a service delivery manager at Kelser, I have an in-depth knowledge of SLAs. I know the important things to look for in an SLA and some clues that might indicate a lack of responsiveness from an IT provider.
In this article, I'll tell you everything you need to know about SLAs. I'll explain what they are, what they should include, what you can expect for an average response and resolution time and whether SLAs are negotiable.
After reading this article, you'll understand what to expect from your IT SLA.
At Kelser, we are committed to providing the information business leaders like you need to make the right IT decision for your organization. Sometimes something as seemingly minor as your SLA can make a huge difference. For example, if you can tolerate some downtime, maybe a longer SLA isn't an issue.
If you are in a time-sensitive business, shorter response and service times are well worth the cost.
Based on my 25 years of experience in the IT industry and deep understanding of SLAs, I'll guide you through everything you need to know.
What Is An IT SLA?
To make sure we are all operating from the same base of understanding, let's define the term SLA. As we mentioned above an SLA is a service level agreement. What does that mean?
Typically included in every IT contract, an SLA provides an understanding between an IT provider and a customer about how quickly the provider will contact a customer after they initiate a service call and the amount of time it will take until their IT issue is resolved.
In most cases, the SLA will be spelled out in the following way: 24x7x365. The first number is the number of hours per day, the second is the number of days per week, and the third is days per year. So the SLA cited above means you are covered 24 hours per day, 7 days per week, 365 days per year.
What Should Be Spelled Out In An IT SLA?
Every IT provider does things a little bit differently. In general, though an SLA should provide:
1. Response Time
When you contact the provider for support, how quickly will they get back to you to confirm what is going on and start the resolution process? What does that process look like? It is just an email verifying receipt of your request or will someone call you for more information?
(As an aside, if you are wondering what information to include in a service ticket, read this article: Everything You Need To Know About IT Service Tickets.)
2. Service Window/Resolution Time
How quickly can you expect your issue to be fully resolved? In general, the resolution time clock starts ticking the moment you file a service ticket and continues running until the issue is fully resolved.
Obviously, there may be an occasion in which a large-scale issue that involves a server or vendor contact or on-site visit may fall outside that window.
If a repair falls outside that window, how soon will you be notified of the need for a longer service window and any additional cost? (This is where effective communication comes into play.)
Find out this information before you need it, so that you know what to expect. And…keep in mind that these occasions should be the exception, not the rule.
3. After Hours Support
What happens if your issue falls outside the provider's normal work day? If your provider is located in another time zone, what does that look like?
Is service available 24/7? What about holidays and weekends? Are there extra charges for service calls that fall outside normal work days? If so, what should you expect to pay?
4. Proactive vs. Reactive Support
Your contract may include different SLAs for proactive monitoring and reactive technical support.
Let me explain.
Proactive monitoring support usually applies to service for your critical network infrastructure like servers. When something isn't working within your infrastructure, a ticket is automatically generated by the system to alert the provider.
Whether that incident happens during routine work hours or after hours, the provider is notified.
The provider may need to take the system down to resolve the issue. (The provider may have a different SLA for planned routine maintenance.)
Reactive technical support is what most people think of as IT service. In other words, a device won't boot up or a tablet won't sync, for example. Reactive technical support covers devices that are not part of the critical network infrastructure.
With reactive technical support, it's important to understand which pieces of equipment are covered under your support contract. Maybe your service contract includes printers and copiers; maybe it doesn't.
Understand what is covered, so you don't wait for a call back from the IT provider only to find that you have to call someone else.
What Is A Normal SLA IT Response Time?
Response time SLAs can vary from a few minutes to an hour or more. It depends on the size and skillset of the IT provider.
Check with your IT provider to see if the SLA is the absolute max and how many calls they respond to within a framework that is comfortable for you. (Your business may be so dependent on technology that you need a guaranteed callback time of 5 minutes, for example.)
Communicate expectations up front, so that you know whether or not they are realistic.
What Is A Normal SLA For Resolution Time?
Most SLAs for resolution time are less than 5 hours. As mentioned previously, there may be an outlier that takes longer, but the majority of issues will be resolved more quickly and some may only take minutes.
Some of the factors that can affect resolution time are:
Hardware (OEM warranties) vs. software issue (may need vendor assistance)
Complexity
Scheduling (customer, vendor, etc.)
Warranties & expanded service agreements
On-site vs. remote troubleshooting
Cloud-based vs. on-site servers
Remember, it is in the best interest of the IT provider to exceed expectations. Just as in any other business, good customer relationships are important.
Are SLAs negotiable?
SLAs may be negotiable, but it is usually easier to negotiate them before you sign the contract rather than after. Some providers may not be willing to negotiate, but it is always worth asking.
Some of the things that might impact a provider's willingness to negotiate SLAS could include:
On-site vs. cloud-based servers
Number of physical sites
Number of remote users
Current state of infrastructure (newer vs. older equipment)
What Else Do You Need To Know?
In this article, we've defined SLAs. In addition to understanding the term, you now also know the things to look for in an SLA (response and resolution time, after hours and reactive/proactive support). You have a better understanding of a normal response and resolution timeframe and you know that there is a chance to negotiate SLAs.
At this point, the most important thing I can say is that it's imperative to understand the SLAs and what you are agreeing to when you sign the contract with your IT provider. If you need more than the contracted SLAs provide, communicate with the provider and see if you can reach a common agreement.
Understand the provider's track record for meeting their SLA commitments. Don't find out after you've signed the contract that the provider has a terrible reputation for meeting its SLAs.
How will the provider measure their success at meeting the commitments outlined in the SLA? Will you receive monthly or quarterly metrics of their response times? Are there penalties associated with not meeting the SLAs?
Before signing a contract, ask for the provider's average ticket volume for a month (or quarter). What is the mean time of ticket closure/resolution in that period?
I can't stress enough the importance of a meeting of the minds, so that you and your provider have a mutual understanding of the expectations. This helps eliminate a lot of surprises and helps build a successful long-term relationship based on trust and mutual respect.
At this point, you may be wondering where to go from here.
If you've never considered working with an external IT provider, check out this article:
What Is Managed IT? What's Included? What Does It Cost?
You may be looking for an IT provider with responsive SLAs. You may be working with a provider whose SLAs leave a lot to be desired. If you are looking for a new or different IT provider, read this article to find out some important questions to ask: Best Questions To Ask Before Signing With An IT Services Provider.
At Kelser, we believe in providing the information business leaders like you can use to make the IT decision that is best for your organization. While we provide comprehensive managed IT solutions, we know that may not be the best fit for your organization.
Our approach is different. Instead of trying to convince you that we know what's best for you, we believe in giving you unbiased information so you can make an informed IT decision. If you are in the market for an external IT provider we encourage you to check out several providers. (We'd love it if you include Kelser in the mix.)
Want to know more about Kelser's managed IT support? Read this article: How Much Does Kelser Charge For Managed IT Services? What's Included?
Find out why we include the services of a vCIO in our managed IT support by reading this article: What Is A vCIO, And Why Should Your Company Have One?
Or, find out for yourself if managed IT is a good solution for your organization, by clicking on the button below and taking the short quiz.